Borussia Dortmund v Bayern Munich: Bundesliga – stay
Domination from Bayern and Harry Kane. The hosts just never looked as if they were in the game, conceding in the fourth minute to an Upamecano header. And then Kane took over, the Englishman demonstrating his substantial chemistry with the three delightful players behind him: Sané, Musiala and Coman. This was meant to be Dortmund's chance to change the direction of this rivalry; instead, they've been brushed aside with ease.

","elementId":"6df6088c-fb5e-4499-8c97-2c3770a93206″},{"_type":"model.dotcomrendering.pageElements.ImageBlockElement","media":{"allImages":[{"index":0,"fields":{"height":"4369″,"width":"7280″},"mediaType":"Image","mimeType":"image/jpeg","url":"https://media.guim.co.uk/e779b98d12481d6e3ad9387ba89a71436427ce2a/0_310_7280_4369/7280.jpg"},{"index":1,"fields":{"isMaster":"true","height":"4369″,"width":"7280″},"mediaType":"Image","mimeType":"image/jpeg","url":"https://media.guim.co.uk/e779b98d12481d6e3ad9387ba89a71436427ce2a/0_310_7280_4369/master/7280.jpg"},{"index":2,"fields":{"height":"1200″,"width":"2000″},"mediaType":"Image","mimeType":"image/jpeg","url":"https://media.guim.co.uk/e779b98d12481d6e3ad9387ba89a71436427ce2a/0_310_7280_4369/2000.jpg"},{"index":3,"fields":{"height":"600″,"width":"1000″},"mediaType":"Image","mimeType":"image/jpeg","url":"https://media.guim.co.uk/e779b98d12481d6e3ad9387ba89a71436427ce2a/0_310_7280_4369/1000.jpg"},{"index":4,"fields":{"height":"300″,"width":"500″},"mediaType":"Image","mimeType":"image/jpeg","url":"https://media.guim.co.uk/e779b98d12481d6e3ad9387ba89a71436427ce2a/0_310_7280_4369/500.jpg"},{"index":5,"fields":{"height":"84″,"width":"140″},"mediaType":"Image","mimeType":"image/jpeg","url":"https://media.guim.co.uk/e779b98d12481d6e3ad9387ba89a71436427ce2a/0_310_7280_4369/140.jpg"}]},"knowledge":{"alt":"Bayern's gamers rejoice on the finish of the German Bundesliga soccer match between Borussia Dortmund and Bayern Munich.","caption":"The Bayern gamers rejoice their victory with their followers.","credit score":"{Photograph}: Martin Meissner/AP"},"displayCredit":true,"function":"inline","imageSources":[{"weighting":"inline","srcSet":[{"src":"https://i.guim.co.uk/img/media/e779b98d12481d6e3ad9387ba89a71436427ce2a/0_310_7280_4369/master/7280.jpg?width=620&quality=85&auto=format&fit=max&s=b3b30275c8aa5b8cb05e46a3f6e38c0f","width":620},{"src":"https://i.guim.co.uk/img/media/e779b98d12481d6e3ad9387ba89a71436427ce2a/0_310_7280_4369/master/7280.jpg?width=620&quality=45&auto=format&fit=max&dpr=2&s=6299da57cda1bf92d4b5766c6541fc1a","width":1240},{"src":"https://i.guim.co.uk/img/media/e779b98d12481d6e3ad9387ba89a71436427ce2a/0_310_7280_4369/master/7280.jpg?width=605&quality=85&auto=format&fit=max&s=79e4ac9d5917d2e45a80eac32cf8fd46″,"width":605},{"src":"https://i.guim.co.uk/img/media/e779b98d12481d6e3ad9387ba89a71436427ce2a/0_310_7280_4369/master/7280.jpg?width=605&quality=45&auto=format&fit=max&dpr=2&s=03480097e4967ac1d97c14b53f5f76da","width":1210},{"src":"https://i.guim.co.uk/img/media/e779b98d12481d6e3ad9387ba89a71436427ce2a/0_310_7280_4369/master/7280.jpg?width=445&quality=85&auto=format&fit=max&s=295205a6bd0d5c278ed3e71a91cde78a","width":445},{"src":"https://i.guim.co.uk/img/media/e779b98d12481d6e3ad9387ba89a71436427ce2a/0_310_7280_4369/master/7280.jpg?width=445&quality=45&auto=format&fit=max&dpr=2&s=48df23f6ae63bc228fae9ee97c648e06″,"width":890}]},{"weighting":"thumbnail","srcSet":[{"src":"https://i.guim.co.uk/img/media/e779b98d12481d6e3ad9387ba89a71436427ce2a/0_310_7280_4369/master/7280.jpg?width=140&quality=85&auto=format&fit=max&s=0822c658873c9b3c8dddfd6e7d4432c6″,"width":140},{"src":"https://i.guim.co.uk/img/media/e779b98d12481d6e3ad9387ba89a71436427ce2a/0_310_7280_4369/master/7280.jpg?width=140&quality=45&auto=format&fit=max&dpr=2&s=3ee86e1aa1d21cf46057214ae3db559d","width":280},{"src":"https://i.guim.co.uk/img/media/e779b98d12481d6e3ad9387ba89a71436427ce2a/0_310_7280_4369/master/7280.jpg?width=120&quality=85&auto=format&fit=max&s=5125d42349d6f537e4f414554634c75e","width":120},{"src":"https://i.guim.co.uk/img/media/e779b98d12481d6e3ad9387ba89a71436427ce2a/0_310_7280_4369/master/7280.jpg?width=120&quality=45&auto=format&fit=max&dpr=2&s=e2e09ed7f0f6866e88dc523ff5d4d14b","width":240}]},{"weighting":"supporting","srcSet":[{"src":"https://i.guim.co.uk/img/media/e779b98d12481d6e3ad9387ba89a71436427ce2a/0_310_7280_4369/master/7280.jpg?width=380&quality=85&auto=format&fit=max&s=5da8b17aa5d02bf58bd846bb301d4a8c","width":380},{"src":"https://i.guim.co.uk/img/media/e779b98d12481d6e3ad9387ba89a71436427ce2a/0_310_7280_4369/master/7280.jpg?width=380&quality=45&auto=format&fit=max&dpr=2&s=0791a696f8a5660c2779a419751e6dad","width":760},{"src":"https://i.guim.co.uk/img/media/e779b98d12481d6e3ad9387ba89a71436427ce2a/0_310_7280_4369/master/7280.jpg?width=300&quality=85&auto=format&fit=max&s=d978c291bc2df8bc33b36027c84d2e8f","width":300},{"src":"https://i.guim.co.uk/img/media/e779b98d12481d6e3ad9387ba89a71436427ce2a/0_310_7280_4369/master/7280.jpg?width=300&quality=45&auto=format&fit=max&dpr=2&s=737fef2c31d048f604b5872aec37b0e7″,"width":600},{"src":"https://i.guim.co.uk/img/media/e779b98d12481d6e3ad9387ba89a71436427ce2a/0_310_7280_4369/master/7280.jpg?width=620&quality=85&auto=format&fit=max&s=b3b30275c8aa5b8cb05e46a3f6e38c0f","width":620},{"src":"https://i.guim.co.uk/img/media/e779b98d12481d6e3ad9387ba89a71436427ce2a/0_310_7280_4369/master/7280.jpg?width=620&quality=45&auto=format&fit=max&dpr=2&s=6299da57cda1bf92d4b5766c6541fc1a","width":1240},{"src":"https://i.guim.co.uk/img/media/e779b98d12481d6e3ad9387ba89a71436427ce2a/0_310_7280_4369/master/7280.jpg?width=605&quality=85&auto=format&fit=max&s=79e4ac9d5917d2e45a80eac32cf8fd46″,"width":605},{"src":"https://i.guim.co.uk/img/media/e779b98d12481d6e3ad9387ba89a71436427ce2a/0_310_7280_4369/master/7280.jpg?width=605&quality=45&auto=format&fit=max&dpr=2&s=03480097e4967ac1d97c14b53f5f76da","width":1210},{"src":"https://i.guim.co.uk/img/media/e779b98d12481d6e3ad9387ba89a71436427ce2a/0_310_7280_4369/master/7280.jpg?width=445&quality=85&auto=format&fit=max&s=295205a6bd0d5c278ed3e71a91cde78a","width":445},{"src":"https://i.guim.co.uk/img/media/e779b98d12481d6e3ad9387ba89a71436427ce2a/0_310_7280_4369/master/7280.jpg?width=445&quality=45&auto=format&fit=max&dpr=2&s=48df23f6ae63bc228fae9ee97c648e06″,"width":890}]},{"weighting":"showcase","srcSet":[{"src":"https://i.guim.co.uk/img/media/e779b98d12481d6e3ad9387ba89a71436427ce2a/0_310_7280_4369/master/7280.jpg?width=860&quality=85&auto=format&fit=max&s=dcf06c80a10718d8bb9c6761147cfb32″,"width":860},{"src":"https://i.guim.co.uk/img/media/e779b98d12481d6e3ad9387ba89a71436427ce2a/0_310_7280_4369/master/7280.jpg?width=860&quality=45&auto=format&fit=max&dpr=2&s=ea82c829382c60da36d036d879945289″,"width":1720},{"src":"https://i.guim.co.uk/img/media/e779b98d12481d6e3ad9387ba89a71436427ce2a/0_310_7280_4369/master/7280.jpg?width=780&quality=85&auto=format&fit=max&s=1d240c2ac8a0d60a4e5ebe94aea0d3be","width":780},{"src":"https://i.guim.co.uk/img/media/e779b98d12481d6e3ad9387ba89a71436427ce2a/0_310_7280_4369/master/7280.jpg?width=780&quality=45&auto=format&fit=max&dpr=2&s=c9eae37177eb251bb7d5ddd0ffa09c50″,"width":1560},{"src":"https://i.guim.co.uk/img/media/e779b98d12481d6e3ad9387ba89a71436427ce2a/0_310_7280_4369/master/7280.jpg?width=620&quality=85&auto=format&fit=max&s=b3b30275c8aa5b8cb05e46a3f6e38c0f","width":620},{"src":"https://i.guim.co.uk/img/media/e779b98d12481d6e3ad9387ba89a71436427ce2a/0_310_7280_4369/master/7280.jpg?width=620&quality=45&auto=format&fit=max&dpr=2&s=6299da57cda1bf92d4b5766c6541fc1a","width":1240},{"src":"https://i.guim.co.uk/img/media/e779b98d12481d6e3ad9387ba89a71436427ce2a/0_310_7280_4369/master/7280.jpg?width=605&quality=85&auto=format&fit=max&s=79e4ac9d5917d2e45a80eac32cf8fd46″,"width":605},{"src":"https://i.guim.co.uk/img/media/e779b98d12481d6e3ad9387ba89a71436427ce2a/0_310_7280_4369/master/7280.jpg?width=605&quality=45&auto=format&fit=max&dpr=2&s=03480097e4967ac1d97c14b53f5f76da","width":1210},{"src":"https://i.guim.co.uk/img/media/e779b98d12481d6e3ad9387ba89a71436427ce2a/0_310_7280_4369/master/7280.jpg?width=445&quality=85&auto=format&fit=max&s=295205a6bd0d5c278ed3e71a91cde78a","width":445},{"src":"https://i.guim.co.uk/img/media/e779b98d12481d6e3ad9387ba89a71436427ce2a/0_310_7280_4369/master/7280.jpg?width=445&quality=45&auto=format&fit=max&dpr=2&s=48df23f6ae63bc228fae9ee97c648e06″,"width":890}]},{"weighting":"halfwidth","srcSet":[{"src":"https://i.guim.co.uk/img/media/e779b98d12481d6e3ad9387ba89a71436427ce2a/0_310_7280_4369/master/7280.jpg?width=620&quality=85&auto=format&fit=max&s=b3b30275c8aa5b8cb05e46a3f6e38c0f","width":620},{"src":"https://i.guim.co.uk/img/media/e779b98d12481d6e3ad9387ba89a71436427ce2a/0_310_7280_4369/master/7280.jpg?width=620&quality=45&auto=format&fit=max&dpr=2&s=6299da57cda1bf92d4b5766c6541fc1a","width":1240},{"src":"https://i.guim.co.uk/img/media/e779b98d12481d6e3ad9387ba89a71436427ce2a/0_310_7280_4369/master/7280.jpg?width=605&quality=85&auto=format&fit=max&s=79e4ac9d5917d2e45a80eac32cf8fd46″,"width":605},{"src":"https://i.guim.co.uk/img/media/e779b98d12481d6e3ad9387ba89a71436427ce2a/0_310_7280_4369/master/7280.jpg?width=605&quality=45&auto=format&fit=max&dpr=2&s=03480097e4967ac1d97c14b53f5f76da","width":1210},{"src":"https://i.guim.co.uk/img/media/e779b98d12481d6e3ad9387ba89a71436427ce2a/0_310_7280_4369/master/7280.jpg?width=445&quality=85&auto=format&fit=max&s=295205a6bd0d5c278ed3e71a91cde78a","width":445},{"src":"https://i.guim.co.uk/img/media/e779b98d12481d6e3ad9387ba89a71436427ce2a/0_310_7280_4369/master/7280.jpg?width=445&quality=45&auto=format&fit=max&dpr=2&s=48df23f6ae63bc228fae9ee97c648e06″,"width":890}]},{"weighting":"immersive","srcSet":[{"src":"https://i.guim.co.uk/img/media/e779b98d12481d6e3ad9387ba89a71436427ce2a/0_310_7280_4369/master/7280.jpg?width=1900&quality=85&auto=format&fit=max&s=0e64deb0acbb844da5db5a8e5d731f77″,"width":1900},{"src":"https://i.guim.co.uk/img/media/e779b98d12481d6e3ad9387ba89a71436427ce2a/0_310_7280_4369/master/7280.jpg?width=1900&quality=45&auto=format&fit=max&dpr=2&s=4f20a615f4b2f1f155c9f612101d4119″,"width":3800},{"src":"https://i.guim.co.uk/img/media/e779b98d12481d6e3ad9387ba89a71436427ce2a/0_310_7280_4369/master/7280.jpg?width=1300&quality=85&auto=format&fit=max&s=279c7fcced90c734f4c5aae2064f891a","width":1300},{"src":"https://i.guim.co.uk/img/media/e779b98d12481d6e3ad9387ba89a71436427ce2a/0_310_7280_4369/master/7280.jpg?width=1300&quality=45&auto=format&fit=max&dpr=2&s=3f38f98bc4b1dc4bcdcc6feba3b33a22″,"width":2600},{"src":"https://i.guim.co.uk/img/media/e779b98d12481d6e3ad9387ba89a71436427ce2a/0_310_7280_4369/master/7280.jpg?width=1140&quality=85&auto=format&fit=max&s=b5fddaf5c34dc9eb36436e4df3eee719″,"width":1140},{"src":"https://i.guim.co.uk/img/media/e779b98d12481d6e3ad9387ba89a71436427ce2a/0_310_7280_4369/master/7280.jpg?width=1140&quality=45&auto=format&fit=max&dpr=2&s=bd0469797822ede7975e3e21c550e440″,"width":2280},{"src":"https://i.guim.co.uk/img/media/e779b98d12481d6e3ad9387ba89a71436427ce2a/0_310_7280_4369/master/7280.jpg?width=980&quality=85&auto=format&fit=max&s=deb6ebffcce5e3325da58aa2d2a6566b","width":980},{"src":"https://i.guim.co.uk/img/media/e779b98d12481d6e3ad9387ba89a71436427ce2a/0_310_7280_4369/master/7280.jpg?width=980&quality=45&auto=format&fit=max&dpr=2&s=2c9cc7182498f5d4e5e54468b52a395b","width":1960},{"src":"https://i.guim.co.uk/img/media/e779b98d12481d6e3ad9387ba89a71436427ce2a/0_310_7280_4369/master/7280.jpg?width=740&quality=85&auto=format&fit=max&s=367f51e37d49447023bfc560317f5e37″,"width":740},{"src":"https://i.guim.co.uk/img/media/e779b98d12481d6e3ad9387ba89a71436427ce2a/0_310_7280_4369/master/7280.jpg?width=740&quality=45&auto=format&fit=max&dpr=2&s=3e8c8044bd2429f89ae4a308ce2f1f11″,"width":1480},{"src":"https://i.guim.co.uk/img/media/e779b98d12481d6e3ad9387ba89a71436427ce2a/0_310_7280_4369/master/7280.jpg?width=660&quality=85&auto=format&fit=max&s=70c29f856d74feef7c9c0de2ecc70ce9″,"width":660},{"src":"https://i.guim.co.uk/img/media/e779b98d12481d6e3ad9387ba89a71436427ce2a/0_310_7280_4369/master/7280.jpg?width=660&quality=45&auto=format&fit=max&dpr=2&s=b2e6fe3cfc506a6dfe34e634e2a9e0bf","width":1320},{"src":"https://i.guim.co.uk/img/media/e779b98d12481d6e3ad9387ba89a71436427ce2a/0_310_7280_4369/master/7280.jpg?width=480&quality=85&auto=format&fit=max&s=a7fd934fb1ab8aafc2264e632f6ba5be","width":480},{"src":"https://i.guim.co.uk/img/media/e779b98d12481d6e3ad9387ba89a71436427ce2a/0_310_7280_4369/master/7280.jpg?width=480&quality=45&auto=format&fit=max&dpr=2&s=f599ece87728cf9a86df5cbb993a6b8c","width":960}]}],"elementId":"7929e6fc-feb7-4b35-bd7f-3c9cda7b3236″}],"attributes":{"pinned":false,"keyEvent":true,"abstract":false},"blockCreatedOn":1699125861000,"blockCreatedOnDisplay":"15.24 EDT","blockLastUpdated":1699126854000,"blockLastUpdatedDisplay":"15.40 EDT","blockFirstPublished":1699125936000,"blockFirstPublishedDisplay":"15.25 EDT","blockFirstPublishedDisplayNoTimezone":"15.25″,"title":"FULL TIME: Dortmund 0-4 Bayern","contributors":[],"primaryDateLine":"Sat 4 Nov 2023 15.47 EDT","secondaryDateLine":"First printed on Sat 4 Nov 2023 12.41 EDT"},{"id":"654699f08f08af73b5ca8a6a","components":[{"_type":"model.dotcomrendering.pageElements.TextBlockElement","html":"

No way. Pavlović wins the ball in the middle, slots in Kane, who is one on one and slots in himself. He's got another hat-trick, his third for Bayern this season. It's November.

","elementId":"68b3908a-15c3-40e7-9f5f-285ef42f5670″},{"_type":"model.dotcomrendering.pageElements.ImageBlockElement","media":{"allImages":[{"index":0,"fields":{"height":"2695″,"width":"4042″},"mediaType":"Image","mimeType":"image/jpeg","url":"https://media.guim.co.uk/f965d6f89896e80ec3792a207b31114dd42a364e/0_0_4042_2695/4042.jpg"},{"index":1,"fields":{"isMaster":"true","height":"2695″,"width":"4042″},"mediaType":"Image","mimeType":"image/jpeg","url":"https://media.guim.co.uk/f965d6f89896e80ec3792a207b31114dd42a364e/0_0_4042_2695/master/4042.jpg"},{"index":2,"fields":{"height":"1333″,"width":"2000″},"mediaType":"Image","mimeType":"image/jpeg","url":"https://media.guim.co.uk/f965d6f89896e80ec3792a207b31114dd42a364e/0_0_4042_2695/2000.jpg"},{"index":3,"fields":{"height":"667″,"width":"1000″},"mediaType":"Image","mimeType":"image/jpeg","url":"https://media.guim.co.uk/f965d6f89896e80ec3792a207b31114dd42a364e/0_0_4042_2695/1000.jpg"},{"index":4,"fields":{"height":"333″,"width":"500″},"mediaType":"Image","mimeType":"image/jpeg","url":"https://media.guim.co.uk/f965d6f89896e80ec3792a207b31114dd42a364e/0_0_4042_2695/500.jpg"},{"index":5,"fields":{"height":"93″,"width":"140″},"mediaType":"Image","mimeType":"image/jpeg","url":"https://media.guim.co.uk/f965d6f89896e80ec3792a207b31114dd42a364e/0_0_4042_2695/140.jpg"}]},"knowledge":{"alt":"Bayern's Harry Kane scores his facet's fourth purpose and full his hat-trick.","caption":"Bayern's Harry Kane scores his facet's fourth purpose and full his hat-trick.","credit score":"{Photograph}: Martin Meissner/AP"},"displayCredit":true,"function":"inline","imageSources":[{"weighting":"inline","srcSet":[{"src":"https://i.guim.co.uk/img/media/f965d6f89896e80ec3792a207b31114dd42a364e/0_0_4042_2695/master/4042.jpg?width=620&quality=85&auto=format&fit=max&s=2fab536c028977aab82ed83dbf6dd13d","width":620},{"src":"https://i.guim.co.uk/img/media/f965d6f89896e80ec3792a207b31114dd42a364e/0_0_4042_2695/master/4042.jpg?width=620&quality=45&auto=format&fit=max&dpr=2&s=de0d14e5a8718d3ab0afeda339d2df3a","width":1240},{"src":"https://i.guim.co.uk/img/media/f965d6f89896e80ec3792a207b31114dd42a364e/0_0_4042_2695/master/4042.jpg?width=605&quality=85&auto=format&fit=max&s=a8b639685f3e3b30500fea48963af93d","width":605},{"src":"https://i.guim.co.uk/img/media/f965d6f89896e80ec3792a207b31114dd42a364e/0_0_4042_2695/master/4042.jpg?width=605&quality=45&auto=format&fit=max&dpr=2&s=7c74ad7e9f9d3cafcc023f6321d6cf31″,"width":1210},{"src":"https://i.guim.co.uk/img/media/f965d6f89896e80ec3792a207b31114dd42a364e/0_0_4042_2695/master/4042.jpg?width=445&quality=85&auto=format&fit=max&s=402f3c397f5f30b77a59234842dbd428″,"width":445},{"src":"https://i.guim.co.uk/img/media/f965d6f89896e80ec3792a207b31114dd42a364e/0_0_4042_2695/master/4042.jpg?width=445&quality=45&auto=format&fit=max&dpr=2&s=bb95d19733fc39429cd4395e41e05a9b","width":890}]},{"weighting":"thumbnail","srcSet":[{"src":"https://i.guim.co.uk/img/media/f965d6f89896e80ec3792a207b31114dd42a364e/0_0_4042_2695/master/4042.jpg?width=140&quality=85&auto=format&fit=max&s=2df3e62c81d83333fce39831a8b28332″,"width":140},{"src":"https://i.guim.co.uk/img/media/f965d6f89896e80ec3792a207b31114dd42a364e/0_0_4042_2695/master/4042.jpg?width=140&quality=45&auto=format&fit=max&dpr=2&s=4e121b7e9b39c7f27c0f3b0ba9eb559e","width":280},{"src":"https://i.guim.co.uk/img/media/f965d6f89896e80ec3792a207b31114dd42a364e/0_0_4042_2695/master/4042.jpg?width=120&quality=85&auto=format&fit=max&s=eb72143ef5b350df4454c76aca430747″,"width":120},{"src":"https://i.guim.co.uk/img/media/f965d6f89896e80ec3792a207b31114dd42a364e/0_0_4042_2695/master/4042.jpg?width=120&quality=45&auto=format&fit=max&dpr=2&s=6f9f8e24693a427659d0b44bc8cc0af1″,"width":240}]},{"weighting":"supporting","srcSet":[{"src":"https://i.guim.co.uk/img/media/f965d6f89896e80ec3792a207b31114dd42a364e/0_0_4042_2695/master/4042.jpg?width=380&quality=85&auto=format&fit=max&s=b2509d7fe0bdbc6f90afcb341c214592″,"width":380},{"src":"https://i.guim.co.uk/img/media/f965d6f89896e80ec3792a207b31114dd42a364e/0_0_4042_2695/master/4042.jpg?width=380&quality=45&auto=format&fit=max&dpr=2&s=6bf637e35ac8525ec5bccadf9d578999″,"width":760},{"src":"https://i.guim.co.uk/img/media/f965d6f89896e80ec3792a207b31114dd42a364e/0_0_4042_2695/master/4042.jpg?width=300&quality=85&auto=format&fit=max&s=7788bf02e47f2fdc41ef9d962738ceba","width":300},{"src":"https://i.guim.co.uk/img/media/f965d6f89896e80ec3792a207b31114dd42a364e/0_0_4042_2695/master/4042.jpg?width=300&quality=45&auto=format&fit=max&dpr=2&s=d04b8805ea502d9552f2d0556c7cacf7″,"width":600},{"src":"https://i.guim.co.uk/img/media/f965d6f89896e80ec3792a207b31114dd42a364e/0_0_4042_2695/master/4042.jpg?width=620&quality=85&auto=format&fit=max&s=2fab536c028977aab82ed83dbf6dd13d","width":620},{"src":"https://i.guim.co.uk/img/media/f965d6f89896e80ec3792a207b31114dd42a364e/0_0_4042_2695/master/4042.jpg?width=620&quality=45&auto=format&fit=max&dpr=2&s=de0d14e5a8718d3ab0afeda339d2df3a","width":1240},{"src":"https://i.guim.co.uk/img/media/f965d6f89896e80ec3792a207b31114dd42a364e/0_0_4042_2695/master/4042.jpg?width=605&quality=85&auto=format&fit=max&s=a8b639685f3e3b30500fea48963af93d","width":605},{"src":"https://i.guim.co.uk/img/media/f965d6f89896e80ec3792a207b31114dd42a364e/0_0_4042_2695/master/4042.jpg?width=605&quality=45&auto=format&fit=max&dpr=2&s=7c74ad7e9f9d3cafcc023f6321d6cf31″,"width":1210},{"src":"https://i.guim.co.uk/img/media/f965d6f89896e80ec3792a207b31114dd42a364e/0_0_4042_2695/master/4042.jpg?width=445&quality=85&auto=format&fit=max&s=402f3c397f5f30b77a59234842dbd428″,"width":445},{"src":"https://i.guim.co.uk/img/media/f965d6f89896e80ec3792a207b31114dd42a364e/0_0_4042_2695/master/4042.jpg?width=445&quality=45&auto=format&fit=max&dpr=2&s=bb95d19733fc39429cd4395e41e05a9b","width":890}]},{"weighting":"showcase","srcSet":[{"src":"https://i.guim.co.uk/img/media/f965d6f89896e80ec3792a207b31114dd42a364e/0_0_4042_2695/master/4042.jpg?width=860&quality=85&auto=format&fit=max&s=9cddbae2e6f38d2b30827eefee0f3d20″,"width":860},{"src":"https://i.guim.co.uk/img/media/f965d6f89896e80ec3792a207b31114dd42a364e/0_0_4042_2695/master/4042.jpg?width=860&quality=45&auto=format&fit=max&dpr=2&s=7802975e870a814dd5503cc50bd06c17″,"width":1720},{"src":"https://i.guim.co.uk/img/media/f965d6f89896e80ec3792a207b31114dd42a364e/0_0_4042_2695/master/4042.jpg?width=780&quality=85&auto=format&fit=max&s=b2ce11729dbba5ccd5fa4643d6020f91″,"width":780},{"src":"https://i.guim.co.uk/img/media/f965d6f89896e80ec3792a207b31114dd42a364e/0_0_4042_2695/master/4042.jpg?width=780&quality=45&auto=format&fit=max&dpr=2&s=24e73fba14d1b46ab4746a8ad419eb39″,"width":1560},{"src":"https://i.guim.co.uk/img/media/f965d6f89896e80ec3792a207b31114dd42a364e/0_0_4042_2695/master/4042.jpg?width=620&quality=85&auto=format&fit=max&s=2fab536c028977aab82ed83dbf6dd13d","width":620},{"src":"https://i.guim.co.uk/img/media/f965d6f89896e80ec3792a207b31114dd42a364e/0_0_4042_2695/master/4042.jpg?width=620&quality=45&auto=format&fit=max&dpr=2&s=de0d14e5a8718d3ab0afeda339d2df3a","width":1240},{"src":"https://i.guim.co.uk/img/media/f965d6f89896e80ec3792a207b31114dd42a364e/0_0_4042_2695/master/4042.jpg?width=605&quality=85&auto=format&fit=max&s=a8b639685f3e3b30500fea48963af93d","width":605},{"src":"https://i.guim.co.uk/img/media/f965d6f89896e80ec3792a207b31114dd42a364e/0_0_4042_2695/master/4042.jpg?width=605&quality=45&auto=format&fit=max&dpr=2&s=7c74ad7e9f9d3cafcc023f6321d6cf31″,"width":1210},{"src":"https://i.guim.co.uk/img/media/f965d6f89896e80ec3792a207b31114dd42a364e/0_0_4042_2695/master/4042.jpg?width=445&quality=85&auto=format&fit=max&s=402f3c397f5f30b77a59234842dbd428″,"width":445},{"src":"https://i.guim.co.uk/img/media/f965d6f89896e80ec3792a207b31114dd42a364e/0_0_4042_2695/master/4042.jpg?width=445&quality=45&auto=format&fit=max&dpr=2&s=bb95d19733fc39429cd4395e41e05a9b","width":890}]},{"weighting":"halfwidth","srcSet":[{"src":"https://i.guim.co.uk/img/media/f965d6f89896e80ec3792a207b31114dd42a364e/0_0_4042_2695/master/4042.jpg?width=620&quality=85&auto=format&fit=max&s=2fab536c028977aab82ed83dbf6dd13d","width":620},{"src":"https://i.guim.co.uk/img/media/f965d6f89896e80ec3792a207b31114dd42a364e/0_0_4042_2695/master/4042.jpg?width=620&quality=45&auto=format&fit=max&dpr=2&s=de0d14e5a8718d3ab0afeda339d2df3a","width":1240},{"src":"https://i.guim.co.uk/img/media/f965d6f89896e80ec3792a207b31114dd42a364e/0_0_4042_2695/master/4042.jpg?width=605&quality=85&auto=format&fit=max&s=a8b639685f3e3b30500fea48963af93d","width":605},{"src":"https://i.guim.co.uk/img/media/f965d6f89896e80ec3792a207b31114dd42a364e/0_0_4042_2695/master/4042.jpg?width=605&quality=45&auto=format&fit=max&dpr=2&s=7c74ad7e9f9d3cafcc023f6321d6cf31″,"width":1210},{"src":"https://i.guim.co.uk/img/media/f965d6f89896e80ec3792a207b31114dd42a364e/0_0_4042_2695/master/4042.jpg?width=445&quality=85&auto=format&fit=max&s=402f3c397f5f30b77a59234842dbd428″,"width":445},{"src":"https://i.guim.co.uk/img/media/f965d6f89896e80ec3792a207b31114dd42a364e/0_0_4042_2695/master/4042.jpg?width=445&quality=45&auto=format&fit=max&dpr=2&s=bb95d19733fc39429cd4395e41e05a9b","width":890}]},{"weighting":"immersive","srcSet":[{"src":"https://i.guim.co.uk/img/media/f965d6f89896e80ec3792a207b31114dd42a364e/0_0_4042_2695/master/4042.jpg?width=1900&quality=85&auto=format&fit=max&s=7f03d5256bf8475cbcc6271646bab20c","width":1900},{"src":"https://i.guim.co.uk/img/media/f965d6f89896e80ec3792a207b31114dd42a364e/0_0_4042_2695/master/4042.jpg?width=1900&quality=45&auto=format&fit=max&dpr=2&s=d3e844b46cda1d24331d179ce2608327″,"width":3800},{"src":"https://i.guim.co.uk/img/media/f965d6f89896e80ec3792a207b31114dd42a364e/0_0_4042_2695/master/4042.jpg?width=1300&quality=85&auto=format&fit=max&s=769a0b1f085444817333e419abac54a4″,"width":1300},{"src":"https://i.guim.co.uk/img/media/f965d6f89896e80ec3792a207b31114dd42a364e/0_0_4042_2695/master/4042.jpg?width=1300&quality=45&auto=format&fit=max&dpr=2&s=864797f03d216cbf63ee67d3390e512c","width":2600},{"src":"https://i.guim.co.uk/img/media/f965d6f89896e80ec3792a207b31114dd42a364e/0_0_4042_2695/master/4042.jpg?width=1140&quality=85&auto=format&fit=max&s=ff4fff5faae25522472af95a8fd55d0e","width":1140},{"src":"https://i.guim.co.uk/img/media/f965d6f89896e80ec3792a207b31114dd42a364e/0_0_4042_2695/master/4042.jpg?width=1140&quality=45&auto=format&fit=max&dpr=2&s=c98f97df7d92bf371cf3725117003367″,"width":2280},{"src":"https://i.guim.co.uk/img/media/f965d6f89896e80ec3792a207b31114dd42a364e/0_0_4042_2695/master/4042.jpg?width=980&quality=85&auto=format&fit=max&s=e384d992fb3dee35e011fa9688098a98″,"width":980},{"src":"https://i.guim.co.uk/img/media/f965d6f89896e80ec3792a207b31114dd42a364e/0_0_4042_2695/master/4042.jpg?width=980&quality=45&auto=format&fit=max&dpr=2&s=73abb614166198fd8e46fcea632f666a","width":1960},{"src":"https://i.guim.co.uk/img/media/f965d6f89896e80ec3792a207b31114dd42a364e/0_0_4042_2695/master/4042.jpg?width=740&quality=85&auto=format&fit=max&s=1b1120dae92babb36ae24de331d08e32″,"width":740},{"src":"https://i.guim.co.uk/img/media/f965d6f89896e80ec3792a207b31114dd42a364e/0_0_4042_2695/master/4042.jpg?width=740&quality=45&auto=format&fit=max&dpr=2&s=e9b65aa07c93174865d33e936985e8b3″,"width":1480},{"src":"https://i.guim.co.uk/img/media/f965d6f89896e80ec3792a207b31114dd42a364e/0_0_4042_2695/master/4042.jpg?width=660&quality=85&auto=format&fit=max&s=9fd9e077a5712c65aeba0f3e4b6177fe","width":660},{"src":"https://i.guim.co.uk/img/media/f965d6f89896e80ec3792a207b31114dd42a364e/0_0_4042_2695/master/4042.jpg?width=660&quality=45&auto=format&fit=max&dpr=2&s=1e1ffeb2790df3670fd440e14ed932bd","width":1320},{"src":"https://i.guim.co.uk/img/media/f965d6f89896e80ec3792a207b31114dd42a364e/0_0_4042_2695/master/4042.jpg?width=480&quality=85&auto=format&fit=max&s=337af377bf4197e64d664b9b4e7735d5″,"width":480},{"src":"https://i.guim.co.uk/img/media/f965d6f89896e80ec3792a207b31114dd42a364e/0_0_4042_2695/master/4042.jpg?width=480&quality=45&auto=format&fit=max&dpr=2&s=71a14c370cc12ed04204984e297aa6ca","width":960}]}],"elementId":"c4da65cb-d26b-4f1c-a4a9-85d97247960c"}],"attributes":{"pinned":false,"keyEvent":true,"abstract":false},"blockCreatedOn":1699125744000,"blockCreatedOnDisplay":"15.22 EDT","blockLastUpdated":1699126517000,"blockLastUpdatedDisplay":"15.35 EDT","blockFirstPublished":1699125769000,"blockFirstPublishedDisplay":"15.22 EDT","blockFirstPublishedDisplayNoTimezone":"15.22″,"title":"GOAL! Dortmund 0-4 Bayern (Kane 90 + 3)","contributors":[],"primaryDateLine":"Sat 4 Nov 2023 15.47 EDT","secondaryDateLine":"First printed on Sat 4 Nov 2023 12.41 EDT"},{"id":"654694fe8f08af73b5ca8a32″,"components":[{"_type":"model.dotcomrendering.pageElements.TextBlockElement","html":"

Another one! Coman finds space on the right wing and plays the perfect low cross to Kane, who takes a touch and then slots into the bottom left corner as Kobel dives the other way. Can he get his third hat-trick of the season?

","elementId":"6175d9cb-f896-4594-99a2-6f6695be2d65″},{"_type":"model.dotcomrendering.pageElements.ImageBlockElement","media":{"allImages":[{"index":0,"fields":{"height":"2828″,"width":"4714″},"mediaType":"Image","mimeType":"image/jpeg","url":"https://media.guim.co.uk/2a1e4b8de1e0e8cb6092e1ad8080d07a08c5ff32/0_441_4714_2828/4714.jpg"},{"index":1,"fields":{"isMaster":"true","height":"2828″,"width":"4714″},"mediaType":"Image","mimeType":"image/jpeg","url":"https://media.guim.co.uk/2a1e4b8de1e0e8cb6092e1ad8080d07a08c5ff32/0_441_4714_2828/master/4714.jpg"},{"index":2,"fields":{"height":"1200″,"width":"2000″},"mediaType":"Image","mimeType":"image/jpeg","url":"https://media.guim.co.uk/2a1e4b8de1e0e8cb6092e1ad8080d07a08c5ff32/0_441_4714_2828/2000.jpg"},{"index":3,"fields":{"height":"600″,"width":"1000″},"mediaType":"Image","mimeType":"image/jpeg","url":"https://media.guim.co.uk/2a1e4b8de1e0e8cb6092e1ad8080d07a08c5ff32/0_441_4714_2828/1000.jpg"},{"index":4,"fields":{"height":"300″,"width":"500″},"mediaType":"Image","mimeType":"image/jpeg","url":"https://media.guim.co.uk/2a1e4b8de1e0e8cb6092e1ad8080d07a08c5ff32/0_441_4714_2828/500.jpg"},{"index":5,"fields":{"height":"84″,"width":"140″},"mediaType":"Image","mimeType":"image/jpeg","url":"https://media.guim.co.uk/2a1e4b8de1e0e8cb6092e1ad8080d07a08c5ff32/0_441_4714_2828/140.jpg"}]},"knowledge":{"alt":"Harry Kane shoots to attain Bayern Munich's third purpose towards Borussia Dortmund.","caption":"Harry Kane places Bayern Munich three targets to the nice together with his second purpose of the sport.","credit score":"{Photograph}: Stuart Franklin/Getty Pictures"},"displayCredit":true,"function":"inline","imageSources":[{"weighting":"inline","srcSet":[{"src":"https://i.guim.co.uk/img/media/2a1e4b8de1e0e8cb6092e1ad8080d07a08c5ff32/0_441_4714_2828/master/4714.jpg?width=620&quality=85&auto=format&fit=max&s=f6c2a684c4f5a3d2d60c037875ca4cd8″,"width":620},{"src":"https://i.guim.co.uk/img/media/2a1e4b8de1e0e8cb6092e1ad8080d07a08c5ff32/0_441_4714_2828/master/4714.jpg?width=620&quality=45&auto=format&fit=max&dpr=2&s=c8a797ee84266768a5b7179f1d12ca9c","width":1240},{"src":"https://i.guim.co.uk/img/media/2a1e4b8de1e0e8cb6092e1ad8080d07a08c5ff32/0_441_4714_2828/master/4714.jpg?width=605&quality=85&auto=format&fit=max&s=f4bd8e78932a52147722c0151b29f5d6″,"width":605},{"src":"https://i.guim.co.uk/img/media/2a1e4b8de1e0e8cb6092e1ad8080d07a08c5ff32/0_441_4714_2828/master/4714.jpg?width=605&quality=45&auto=format&fit=max&dpr=2&s=26f144750c7a9d605831db7fd6e23667″,"width":1210},{"src":"https://i.guim.co.uk/img/media/2a1e4b8de1e0e8cb6092e1ad8080d07a08c5ff32/0_441_4714_2828/master/4714.jpg?width=445&quality=85&auto=format&fit=max&s=224731cb6fe3d780c0ea65430b348f00″,"width":445},{"src":"https://i.guim.co.uk/img/media/2a1e4b8de1e0e8cb6092e1ad8080d07a08c5ff32/0_441_4714_2828/master/4714.jpg?width=445&quality=45&auto=format&fit=max&dpr=2&s=11a0bd8fc31224fccd22fb5b4e7efdba","width":890}]},{"weighting":"thumbnail","srcSet":[{"src":"https://i.guim.co.uk/img/media/2a1e4b8de1e0e8cb6092e1ad8080d07a08c5ff32/0_441_4714_2828/master/4714.jpg?width=140&quality=85&auto=format&fit=max&s=13b013a545c53ef858856cb618a7a909″,"width":140},{"src":"https://i.guim.co.uk/img/media/2a1e4b8de1e0e8cb6092e1ad8080d07a08c5ff32/0_441_4714_2828/master/4714.jpg?width=140&quality=45&auto=format&fit=max&dpr=2&s=97514b91a08ba506756045fa2565357a","width":280},{"src":"https://i.guim.co.uk/img/media/2a1e4b8de1e0e8cb6092e1ad8080d07a08c5ff32/0_441_4714_2828/master/4714.jpg?width=120&quality=85&auto=format&fit=max&s=e31787879cf2956d2509b4aff33bdea4″,"width":120},{"src":"https://i.guim.co.uk/img/media/2a1e4b8de1e0e8cb6092e1ad8080d07a08c5ff32/0_441_4714_2828/master/4714.jpg?width=120&quality=45&auto=format&fit=max&dpr=2&s=2607e065a5abaecae0959749db78d979″,"width":240}]},{"weighting":"supporting","srcSet":[{"src":"https://i.guim.co.uk/img/media/2a1e4b8de1e0e8cb6092e1ad8080d07a08c5ff32/0_441_4714_2828/master/4714.jpg?width=380&quality=85&auto=format&fit=max&s=73fdf51347b0e516562e62133b7ed664″,"width":380},{"src":"https://i.guim.co.uk/img/media/2a1e4b8de1e0e8cb6092e1ad8080d07a08c5ff32/0_441_4714_2828/master/4714.jpg?width=380&quality=45&auto=format&fit=max&dpr=2&s=b1def600e1d68176c382560645a88e2b","width":760},{"src":"https://i.guim.co.uk/img/media/2a1e4b8de1e0e8cb6092e1ad8080d07a08c5ff32/0_441_4714_2828/master/4714.jpg?width=300&quality=85&auto=format&fit=max&s=a1edd6b3775274d3cd49ce3f3ebf1876″,"width":300},{"src":"https://i.guim.co.uk/img/media/2a1e4b8de1e0e8cb6092e1ad8080d07a08c5ff32/0_441_4714_2828/master/4714.jpg?width=300&quality=45&auto=format&fit=max&dpr=2&s=2b11b5353ad78f2ad825208be285306d","width":600},{"src":"https://i.guim.co.uk/img/media/2a1e4b8de1e0e8cb6092e1ad8080d07a08c5ff32/0_441_4714_2828/master/4714.jpg?width=620&quality=85&auto=format&fit=max&s=f6c2a684c4f5a3d2d60c037875ca4cd8″,"width":620},{"src":"https://i.guim.co.uk/img/media/2a1e4b8de1e0e8cb6092e1ad8080d07a08c5ff32/0_441_4714_2828/master/4714.jpg?width=620&quality=45&auto=format&fit=max&dpr=2&s=c8a797ee84266768a5b7179f1d12ca9c","width":1240},{"src":"https://i.guim.co.uk/img/media/2a1e4b8de1e0e8cb6092e1ad8080d07a08c5ff32/0_441_4714_2828/master/4714.jpg?width=605&quality=85&auto=format&fit=max&s=f4bd8e78932a52147722c0151b29f5d6″,"width":605},{"src":"https://i.guim.co.uk/img/media/2a1e4b8de1e0e8cb6092e1ad8080d07a08c5ff32/0_441_4714_2828/master/4714.jpg?width=605&quality=45&auto=format&fit=max&dpr=2&s=26f144750c7a9d605831db7fd6e23667″,"width":1210},{"src":"https://i.guim.co.uk/img/media/2a1e4b8de1e0e8cb6092e1ad8080d07a08c5ff32/0_441_4714_2828/master/4714.jpg?width=445&quality=85&auto=format&fit=max&s=224731cb6fe3d780c0ea65430b348f00″,"width":445},{"src":"https://i.guim.co.uk/img/media/2a1e4b8de1e0e8cb6092e1ad8080d07a08c5ff32/0_441_4714_2828/master/4714.jpg?width=445&quality=45&auto=format&fit=max&dpr=2&s=11a0bd8fc31224fccd22fb5b4e7efdba","width":890}]},{"weighting":"showcase","srcSet":[{"src":"https://i.guim.co.uk/img/media/2a1e4b8de1e0e8cb6092e1ad8080d07a08c5ff32/0_441_4714_2828/master/4714.jpg?width=860&quality=85&auto=format&fit=max&s=b45e76fcceb76f0d0894891273265f82″,"width":860},{"src":"https://i.guim.co.uk/img/media/2a1e4b8de1e0e8cb6092e1ad8080d07a08c5ff32/0_441_4714_2828/master/4714.jpg?width=860&quality=45&auto=format&fit=max&dpr=2&s=a41d4b68a87c6c1f80787987018bde10″,"width":1720},{"src":"https://i.guim.co.uk/img/media/2a1e4b8de1e0e8cb6092e1ad8080d07a08c5ff32/0_441_4714_2828/master/4714.jpg?width=780&quality=85&auto=format&fit=max&s=88c7c7ef6306f6b0e2399d6355883d87″,"width":780},{"src":"https://i.guim.co.uk/img/media/2a1e4b8de1e0e8cb6092e1ad8080d07a08c5ff32/0_441_4714_2828/master/4714.jpg?width=780&quality=45&auto=format&fit=max&dpr=2&s=5594478df5bd4c1d06f2dfb44b3ee656″,"width":1560},{"src":"https://i.guim.co.uk/img/media/2a1e4b8de1e0e8cb6092e1ad8080d07a08c5ff32/0_441_4714_2828/master/4714.jpg?width=620&quality=85&auto=format&fit=max&s=f6c2a684c4f5a3d2d60c037875ca4cd8″,"width":620},{"src":"https://i.guim.co.uk/img/media/2a1e4b8de1e0e8cb6092e1ad8080d07a08c5ff32/0_441_4714_2828/master/4714.jpg?width=620&quality=45&auto=format&fit=max&dpr=2&s=c8a797ee84266768a5b7179f1d12ca9c","width":1240},{"src":"https://i.guim.co.uk/img/media/2a1e4b8de1e0e8cb6092e1ad8080d07a08c5ff32/0_441_4714_2828/master/4714.jpg?width=605&quality=85&auto=format&fit=max&s=f4bd8e78932a52147722c0151b29f5d6″,"width":605},{"src":"https://i.guim.co.uk/img/media/2a1e4b8de1e0e8cb6092e1ad8080d07a08c5ff32/0_441_4714_2828/master/4714.jpg?width=605&quality=45&auto=format&fit=max&dpr=2&s=26f144750c7a9d605831db7fd6e23667″,"width":1210},{"src":"https://i.guim.co.uk/img/media/2a1e4b8de1e0e8cb6092e1ad8080d07a08c5ff32/0_441_4714_2828/master/4714.jpg?width=445&quality=85&auto=format&fit=max&s=224731cb6fe3d780c0ea65430b348f00″,"width":445},{"src":"https://i.guim.co.uk/img/media/2a1e4b8de1e0e8cb6092e1ad8080d07a08c5ff32/0_441_4714_2828/master/4714.jpg?width=445&quality=45&auto=format&fit=max&dpr=2&s=11a0bd8fc31224fccd22fb5b4e7efdba","width":890}]},{"weighting":"halfwidth","srcSet":[{"src":"https://i.guim.co.uk/img/media/2a1e4b8de1e0e8cb6092e1ad8080d07a08c5ff32/0_441_4714_2828/master/4714.jpg?width=620&quality=85&auto=format&fit=max&s=f6c2a684c4f5a3d2d60c037875ca4cd8″,"width":620},{"src":"https://i.guim.co.uk/img/media/2a1e4b8de1e0e8cb6092e1ad8080d07a08c5ff32/0_441_4714_2828/master/4714.jpg?width=620&quality=45&auto=format&fit=max&dpr=2&s=c8a797ee84266768a5b7179f1d12ca9c","width":1240},{"src":"https://i.guim.co.uk/img/media/2a1e4b8de1e0e8cb6092e1ad8080d07a08c5ff32/0_441_4714_2828/master/4714.jpg?width=605&quality=85&auto=format&fit=max&s=f4bd8e78932a52147722c0151b29f5d6″,"width":605},{"src":"https://i.guim.co.uk/img/media/2a1e4b8de1e0e8cb6092e1ad8080d07a08c5ff32/0_441_4714_2828/master/4714.jpg?width=605&quality=45&auto=format&fit=max&dpr=2&s=26f144750c7a9d605831db7fd6e23667″,"width":1210},{"src":"https://i.guim.co.uk/img/media/2a1e4b8de1e0e8cb6092e1ad8080d07a08c5ff32/0_441_4714_2828/master/4714.jpg?width=445&quality=85&auto=format&fit=max&s=224731cb6fe3d780c0ea65430b348f00″,"width":445},{"src":"https://i.guim.co.uk/img/media/2a1e4b8de1e0e8cb6092e1ad8080d07a08c5ff32/0_441_4714_2828/master/4714.jpg?width=445&quality=45&auto=format&fit=max&dpr=2&s=11a0bd8fc31224fccd22fb5b4e7efdba","width":890}]},{"weighting":"immersive","srcSet":[{"src":"https://i.guim.co.uk/img/media/2a1e4b8de1e0e8cb6092e1ad8080d07a08c5ff32/0_441_4714_2828/master/4714.jpg?width=1900&quality=85&auto=format&fit=max&s=59daa986a66726ac065faab6ba95a461″,"width":1900},{"src":"https://i.guim.co.uk/img/media/2a1e4b8de1e0e8cb6092e1ad8080d07a08c5ff32/0_441_4714_2828/master/4714.jpg?width=1900&quality=45&auto=format&fit=max&dpr=2&s=caa5d094e487f674785268a376a0b117″,"width":3800},{"src":"https://i.guim.co.uk/img/media/2a1e4b8de1e0e8cb6092e1ad8080d07a08c5ff32/0_441_4714_2828/master/4714.jpg?width=1300&quality=85&auto=format&fit=max&s=f986f387cd3e65c6f400e3f02d4a46e5″,"width":1300},{"src":"https://i.guim.co.uk/img/media/2a1e4b8de1e0e8cb6092e1ad8080d07a08c5ff32/0_441_4714_2828/master/4714.jpg?width=1300&quality=45&auto=format&fit=max&dpr=2&s=7e05b4a8f000f9d5614f178532adeb89″,"width":2600},{"src":"https://i.guim.co.uk/img/media/2a1e4b8de1e0e8cb6092e1ad8080d07a08c5ff32/0_441_4714_2828/master/4714.jpg?width=1140&quality=85&auto=format&fit=max&s=15296dbfe77609fba9e83b6003a0c23f","width":1140},{"src":"https://i.guim.co.uk/img/media/2a1e4b8de1e0e8cb6092e1ad8080d07a08c5ff32/0_441_4714_2828/master/4714.jpg?width=1140&quality=45&auto=format&fit=max&dpr=2&s=b6bd06a94374d57461783cc7a0110f95″,"width":2280},{"src":"https://i.guim.co.uk/img/media/2a1e4b8de1e0e8cb6092e1ad8080d07a08c5ff32/0_441_4714_2828/master/4714.jpg?width=980&quality=85&auto=format&fit=max&s=594670429f15cfbdcbee1f7295ef1496″,"width":980},{"src":"https://i.guim.co.uk/img/media/2a1e4b8de1e0e8cb6092e1ad8080d07a08c5ff32/0_441_4714_2828/master/4714.jpg?width=980&quality=45&auto=format&fit=max&dpr=2&s=325453b5766e23acfda3030686bd9961″,"width":1960},{"src":"https://i.guim.co.uk/img/media/2a1e4b8de1e0e8cb6092e1ad8080d07a08c5ff32/0_441_4714_2828/master/4714.jpg?width=740&quality=85&auto=format&fit=max&s=17e7ee40a272a1e65c50dd11300f6bc6″,"width":740},{"src":"https://i.guim.co.uk/img/media/2a1e4b8de1e0e8cb6092e1ad8080d07a08c5ff32/0_441_4714_2828/master/4714.jpg?width=740&quality=45&auto=format&fit=max&dpr=2&s=c0822bb72ca8951c68342c24fd9c6677″,"width":1480},{"src":"https://i.guim.co.uk/img/media/2a1e4b8de1e0e8cb6092e1ad8080d07a08c5ff32/0_441_4714_2828/master/4714.jpg?width=660&quality=85&auto=format&fit=max&s=36e3e31980ff3501ccaf97fb4442733e","width":660},{"src":"https://i.guim.co.uk/img/media/2a1e4b8de1e0e8cb6092e1ad8080d07a08c5ff32/0_441_4714_2828/master/4714.jpg?width=660&quality=45&auto=format&fit=max&dpr=2&s=f4aa4375c4b346bb521c2b0662efce15″,"width":1320},{"src":"https://i.guim.co.uk/img/media/2a1e4b8de1e0e8cb6092e1ad8080d07a08c5ff32/0_441_4714_2828/master/4714.jpg?width=480&quality=85&auto=format&fit=max&s=086d28b91559a2f6caf0ddf8501ecd26″,"width":480},{"src":"https://i.guim.co.uk/img/media/2a1e4b8de1e0e8cb6092e1ad8080d07a08c5ff32/0_441_4714_2828/master/4714.jpg?width=480&quality=45&auto=format&fit=max&dpr=2&s=4dde4b56f0cd07f0c8cda321e4248c8b","width":960}]}],"elementId":"58c0ff4d-6369-43ce-909d-b077f0f033e1″},{"_type":"mannequin.dotcomrendering.pageElements.ImageBlockElement","media":{"allImages":[{"index":0,"fields":{"height":"2514″,"width":"4190″},"mediaType":"Image","mimeType":"image/jpeg","url":"https://media.guim.co.uk/cd6695aaea9d8780334ce9cc77dc46450e2fa72d/0_0_4190_2514/4190.jpg"},{"index":1,"fields":{"isMaster":"true","height":"2514″,"width":"4190″},"mediaType":"Image","mimeType":"image/jpeg","url":"https://media.guim.co.uk/cd6695aaea9d8780334ce9cc77dc46450e2fa72d/0_0_4190_2514/master/4190.jpg"},{"index":2,"fields":{"height":"1200″,"width":"2000″},"mediaType":"Image","mimeType":"image/jpeg","url":"https://media.guim.co.uk/cd6695aaea9d8780334ce9cc77dc46450e2fa72d/0_0_4190_2514/2000.jpg"},{"index":3,"fields":{"height":"600″,"width":"1000″},"mediaType":"Image","mimeType":"image/jpeg","url":"https://media.guim.co.uk/cd6695aaea9d8780334ce9cc77dc46450e2fa72d/0_0_4190_2514/1000.jpg"},{"index":4,"fields":{"height":"300″,"width":"500″},"mediaType":"Image","mimeType":"image/jpeg","url":"https://media.guim.co.uk/cd6695aaea9d8780334ce9cc77dc46450e2fa72d/0_0_4190_2514/500.jpg"},{"index":5,"fields":{"height":"84″,"width":"140″},"mediaType":"Image","mimeType":"image/jpeg","url":"https://media.guim.co.uk/cd6695aaea9d8780334ce9cc77dc46450e2fa72d/0_0_4190_2514/140.jpg"}]},"knowledge":{"alt":"Harry Kane celebrates after scoring his second, and Bayern Munich's third at Borussia Dortmund.","caption":"Kane celebrates.","credit score":"{Photograph}: Edith Geuppert/GES Sportfoto/Getty Pictures"},"displayCredit":true,"function":"inline","imageSources":[{"weighting":"inline","srcSet":[{"src":"https://i.guim.co.uk/img/media/cd6695aaea9d8780334ce9cc77dc46450e2fa72d/0_0_4190_2514/master/4190.jpg?width=620&quality=85&auto=format&fit=max&s=4128ca196ad06331cb9e88ca3798e82b","width":620},{"src":"https://i.guim.co.uk/img/media/cd6695aaea9d8780334ce9cc77dc46450e2fa72d/0_0_4190_2514/master/4190.jpg?width=620&quality=45&auto=format&fit=max&dpr=2&s=3662288c35451929756821414abc4f96″,"width":1240},{"src":"https://i.guim.co.uk/img/media/cd6695aaea9d8780334ce9cc77dc46450e2fa72d/0_0_4190_2514/master/4190.jpg?width=605&quality=85&auto=format&fit=max&s=a63c39ad7b23173cc180a440ca0db4b8″,"width":605},{"src":"https://i.guim.co.uk/img/media/cd6695aaea9d8780334ce9cc77dc46450e2fa72d/0_0_4190_2514/master/4190.jpg?width=605&quality=45&auto=format&fit=max&dpr=2&s=5ce7685af95e447d0e0e74609eae819f","width":1210},{"src":"https://i.guim.co.uk/img/media/cd6695aaea9d8780334ce9cc77dc46450e2fa72d/0_0_4190_2514/master/4190.jpg?width=445&quality=85&auto=format&fit=max&s=067bef72450839ebf5ddd14247b0a67a","width":445},{"src":"https://i.guim.co.uk/img/media/cd6695aaea9d8780334ce9cc77dc46450e2fa72d/0_0_4190_2514/master/4190.jpg?width=445&quality=45&auto=format&fit=max&dpr=2&s=c5447ebf033a7dc04b1fffcddebcf5e0″,"width":890}]},{"weighting":"thumbnail","srcSet":[{"src":"https://i.guim.co.uk/img/media/cd6695aaea9d8780334ce9cc77dc46450e2fa72d/0_0_4190_2514/master/4190.jpg?width=140&quality=85&auto=format&fit=max&s=90fc0bffce02d758076e1711c92431cf","width":140},{"src":"https://i.guim.co.uk/img/media/cd6695aaea9d8780334ce9cc77dc46450e2fa72d/0_0_4190_2514/master/4190.jpg?width=140&quality=45&auto=format&fit=max&dpr=2&s=55a8f490a1148fd2bafe587bc249ec2f","width":280},{"src":"https://i.guim.co.uk/img/media/cd6695aaea9d8780334ce9cc77dc46450e2fa72d/0_0_4190_2514/master/4190.jpg?width=120&quality=85&auto=format&fit=max&s=d5f93a167aa211d2bdda61f9ae40a1f9″,"width":120},{"src":"https://i.guim.co.uk/img/media/cd6695aaea9d8780334ce9cc77dc46450e2fa72d/0_0_4190_2514/master/4190.jpg?width=120&quality=45&auto=format&fit=max&dpr=2&s=b6ed41fa201ef257b359b3c216f1de1a","width":240}]},{"weighting":"supporting","srcSet":[{"src":"https://i.guim.co.uk/img/media/cd6695aaea9d8780334ce9cc77dc46450e2fa72d/0_0_4190_2514/master/4190.jpg?width=380&quality=85&auto=format&fit=max&s=db6043dfa3fb47e71247ce33445f0ff1″,"width":380},{"src":"https://i.guim.co.uk/img/media/cd6695aaea9d8780334ce9cc77dc46450e2fa72d/0_0_4190_2514/master/4190.jpg?width=380&quality=45&auto=format&fit=max&dpr=2&s=64589c8da8ff42b3a51734f9374cd78c","width":760},{"src":"https://i.guim.co.uk/img/media/cd6695aaea9d8780334ce9cc77dc46450e2fa72d/0_0_4190_2514/master/4190.jpg?width=300&quality=85&auto=format&fit=max&s=8fb56f27fa7df5ca83a2d6c83c9bbcf3″,"width":300},{"src":"https://i.guim.co.uk/img/media/cd6695aaea9d8780334ce9cc77dc46450e2fa72d/0_0_4190_2514/master/4190.jpg?width=300&quality=45&auto=format&fit=max&dpr=2&s=6397981de2a0840ece45bdf00ef4bc0a","width":600},{"src":"https://i.guim.co.uk/img/media/cd6695aaea9d8780334ce9cc77dc46450e2fa72d/0_0_4190_2514/master/4190.jpg?width=620&quality=85&auto=format&fit=max&s=4128ca196ad06331cb9e88ca3798e82b","width":620},{"src":"https://i.guim.co.uk/img/media/cd6695aaea9d8780334ce9cc77dc46450e2fa72d/0_0_4190_2514/master/4190.jpg?width=620&quality=45&auto=format&fit=max&dpr=2&s=3662288c35451929756821414abc4f96″,"width":1240},{"src":"https://i.guim.co.uk/img/media/cd6695aaea9d8780334ce9cc77dc46450e2fa72d/0_0_4190_2514/master/4190.jpg?width=605&quality=85&auto=format&fit=max&s=a63c39ad7b23173cc180a440ca0db4b8″,"width":605},{"src":"https://i.guim.co.uk/img/media/cd6695aaea9d8780334ce9cc77dc46450e2fa72d/0_0_4190_2514/master/4190.jpg?width=605&quality=45&auto=format&fit=max&dpr=2&s=5ce7685af95e447d0e0e74609eae819f","width":1210},{"src":"https://i.guim.co.uk/img/media/cd6695aaea9d8780334ce9cc77dc46450e2fa72d/0_0_4190_2514/master/4190.jpg?width=445&quality=85&auto=format&fit=max&s=067bef72450839ebf5ddd14247b0a67a","width":445},{"src":"https://i.guim.co.uk/img/media/cd6695aaea9d8780334ce9cc77dc46450e2fa72d/0_0_4190_2514/master/4190.jpg?width=445&quality=45&auto=format&fit=max&dpr=2&s=c5447ebf033a7dc04b1fffcddebcf5e0″,"width":890}]},{"weighting":"showcase","srcSet":[{"src":"https://i.guim.co.uk/img/media/cd6695aaea9d8780334ce9cc77dc46450e2fa72d/0_0_4190_2514/master/4190.jpg?width=860&quality=85&auto=format&fit=max&s=18faa8a0fd7ee412ecd65aa29999bcff","width":860},{"src":"https://i.guim.co.uk/img/media/cd6695aaea9d8780334ce9cc77dc46450e2fa72d/0_0_4190_2514/master/4190.jpg?width=860&quality=45&auto=format&fit=max&dpr=2&s=a52f31355b901ed337cca047ef0a6732″,"width":1720},{"src":"https://i.guim.co.uk/img/media/cd6695aaea9d8780334ce9cc77dc46450e2fa72d/0_0_4190_2514/master/4190.jpg?width=780&quality=85&auto=format&fit=max&s=72bc1393b9912fd335c80d764b6afdfc","width":780},{"src":"https://i.guim.co.uk/img/media/cd6695aaea9d8780334ce9cc77dc46450e2fa72d/0_0_4190_2514/master/4190.jpg?width=780&quality=45&auto=format&fit=max&dpr=2&s=d12387b076ec88ab91bf3b81f1cd7482″,"width":1560},{"src":"https://i.guim.co.uk/img/media/cd6695aaea9d8780334ce9cc77dc46450e2fa72d/0_0_4190_2514/master/4190.jpg?width=620&quality=85&auto=format&fit=max&s=4128ca196ad06331cb9e88ca3798e82b","width":620},{"src":"https://i.guim.co.uk/img/media/cd6695aaea9d8780334ce9cc77dc46450e2fa72d/0_0_4190_2514/master/4190.jpg?width=620&quality=45&auto=format&fit=max&dpr=2&s=3662288c35451929756821414abc4f96″,"width":1240},{"src":"https://i.guim.co.uk/img/media/cd6695aaea9d8780334ce9cc77dc46450e2fa72d/0_0_4190_2514/master/4190.jpg?width=605&quality=85&auto=format&fit=max&s=a63c39ad7b23173cc180a440ca0db4b8″,"width":605},{"src":"https://i.guim.co.uk/img/media/cd6695aaea9d8780334ce9cc77dc46450e2fa72d/0_0_4190_2514/master/4190.jpg?width=605&quality=45&auto=format&fit=max&dpr=2&s=5ce7685af95e447d0e0e74609eae819f","width":1210},{"src":"https://i.guim.co.uk/img/media/cd6695aaea9d8780334ce9cc77dc46450e2fa72d/0_0_4190_2514/master/4190.jpg?width=445&quality=85&auto=format&fit=max&s=067bef72450839ebf5ddd14247b0a67a","width":445},{"src":"https://i.guim.co.uk/img/media/cd6695aaea9d8780334ce9cc77dc46450e2fa72d/0_0_4190_2514/master/4190.jpg?width=445&quality=45&auto=format&fit=max&dpr=2&s=c5447ebf033a7dc04b1fffcddebcf5e0″,"width":890}]},{"weighting":"halfwidth","srcSet":[{"src":"https://i.guim.co.uk/img/media/cd6695aaea9d8780334ce9cc77dc46450e2fa72d/0_0_4190_2514/master/4190.jpg?width=620&quality=85&auto=format&fit=max&s=4128ca196ad06331cb9e88ca3798e82b","width":620},{"src":"https://i.guim.co.uk/img/media/cd6695aaea9d8780334ce9cc77dc46450e2fa72d/0_0_4190_2514/master/4190.jpg?width=620&quality=45&auto=format&fit=max&dpr=2&s=3662288c35451929756821414abc4f96″,"width":1240},{"src":"https://i.guim.co.uk/img/media/cd6695aaea9d8780334ce9cc77dc46450e2fa72d/0_0_4190_2514/master/4190.jpg?width=605&quality=85&auto=format&fit=max&s=a63c39ad7b23173cc180a440ca0db4b8″,"width":605},{"src":"https://i.guim.co.uk/img/media/cd6695aaea9d8780334ce9cc77dc46450e2fa72d/0_0_4190_2514/master/4190.jpg?width=605&quality=45&auto=format&fit=max&dpr=2&s=5ce7685af95e447d0e0e74609eae819f","width":1210},{"src":"https://i.guim.co.uk/img/media/cd6695aaea9d8780334ce9cc77dc46450e2fa72d/0_0_4190_2514/master/4190.jpg?width=445&quality=85&auto=format&fit=max&s=067bef72450839ebf5ddd14247b0a67a","width":445},{"src":"https://i.guim.co.uk/img/media/cd6695aaea9d8780334ce9cc77dc46450e2fa72d/0_0_4190_2514/master/4190.jpg?width=445&quality=45&auto=format&fit=max&dpr=2&s=c5447ebf033a7dc04b1fffcddebcf5e0″,"width":890}]},{"weighting":"immersive","srcSet":[{"src":"https://i.guim.co.uk/img/media/cd6695aaea9d8780334ce9cc77dc46450e2fa72d/0_0_4190_2514/master/4190.jpg?width=1900&quality=85&auto=format&fit=max&s=3cf829eb7849d9879e74567e4dedb586″,"width":1900},{"src":"https://i.guim.co.uk/img/media/cd6695aaea9d8780334ce9cc77dc46450e2fa72d/0_0_4190_2514/master/4190.jpg?width=1900&quality=45&auto=format&fit=max&dpr=2&s=a68401be672ce447f8aa97850b93d08a","width":3800},{"src":"https://i.guim.co.uk/img/media/cd6695aaea9d8780334ce9cc77dc46450e2fa72d/0_0_4190_2514/master/4190.jpg?width=1300&quality=85&auto=format&fit=max&s=02c1c1a0a09d65b56bfe519651cf3e97″,"width":1300},{"src":"https://i.guim.co.uk/img/media/cd6695aaea9d8780334ce9cc77dc46450e2fa72d/0_0_4190_2514/master/4190.jpg?width=1300&quality=45&auto=format&fit=max&dpr=2&s=4307a4606f479b323187734f40d653fb","width":2600},{"src":"https://i.guim.co.uk/img/media/cd6695aaea9d8780334ce9cc77dc46450e2fa72d/0_0_4190_2514/master/4190.jpg?width=1140&quality=85&auto=format&fit=max&s=cdb7fe2ccdbbd7512e01e856b2a731c4″,"width":1140},{"src":"https://i.guim.co.uk/img/media/cd6695aaea9d8780334ce9cc77dc46450e2fa72d/0_0_4190_2514/master/4190.jpg?width=1140&quality=45&auto=format&fit=max&dpr=2&s=2613996e6facdd95566f0c037eeef57a","width":2280},{"src":"https://i.guim.co.uk/img/media/cd6695aaea9d8780334ce9cc77dc46450e2fa72d/0_0_4190_2514/master/4190.jpg?width=980&quality=85&auto=format&fit=max&s=b4ec1b93781be4ecdd2fb6ab47f66ed1″,"width":980},{"src":"https://i.guim.co.uk/img/media/cd6695aaea9d8780334ce9cc77dc46450e2fa72d/0_0_4190_2514/master/4190.jpg?width=980&quality=45&auto=format&fit=max&dpr=2&s=b5cacd0f07df631adcd471684f70a6aa","width":1960},{"src":"https://i.guim.co.uk/img/media/cd6695aaea9d8780334ce9cc77dc46450e2fa72d/0_0_4190_2514/master/4190.jpg?width=740&quality=85&auto=format&fit=max&s=53726e002ee3d932e4d994b51222cad2″,"width":740},{"src":"https://i.guim.co.uk/img/media/cd6695aaea9d8780334ce9cc77dc46450e2fa72d/0_0_4190_2514/master/4190.jpg?width=740&quality=45&auto=format&fit=max&dpr=2&s=ff00ab972e96d90d2d1c3383674c3435″,"width":1480},{"src":"https://i.guim.co.uk/img/media/cd6695aaea9d8780334ce9cc77dc46450e2fa72d/0_0_4190_2514/master/4190.jpg?width=660&quality=85&auto=format&fit=max&s=f56fe6eca1c7576b7d88e44aef939e28″,"width":660},{"src":"https://i.guim.co.uk/img/media/cd6695aaea9d8780334ce9cc77dc46450e2fa72d/0_0_4190_2514/master/4190.jpg?width=660&quality=45&auto=format&fit=max&dpr=2&s=3c4e445e6bce0b99a6a616a0e8029d5f","width":1320},{"src":"https://i.guim.co.uk/img/media/cd6695aaea9d8780334ce9cc77dc46450e2fa72d/0_0_4190_2514/master/4190.jpg?width=480&quality=85&auto=format&fit=max&s=7e16536b69d92648973335b67cfeaf0b","width":480},{"src":"https://i.guim.co.uk/img/media/cd6695aaea9d8780334ce9cc77dc46450e2fa72d/0_0_4190_2514/master/4190.jpg?width=480&quality=45&auto=format&fit=max&dpr=2&s=4b5110134167479e7b965a4f9d81c774″,"width":960}]}],"elementId":"1b22e796-678c-4a73-9193-ca4a52fd3042″},{"_type":"mannequin.dotcomrendering.pageElements.ImageBlockElement","media":{"allImages":[{"index":0,"fields":{"height":"2208″,"width":"3680″},"mediaType":"Image","mimeType":"image/jpeg","url":"https://media.guim.co.uk/01eb5a28faf84d67e61a66272881cb76a299fffb/212_142_3680_2208/3680.jpg"},{"index":1,"fields":{"isMaster":"true","height":"2208″,"width":"3680″},"mediaType":"Image","mimeType":"image/jpeg","url":"https://media.guim.co.uk/01eb5a28faf84d67e61a66272881cb76a299fffb/212_142_3680_2208/master/3680.jpg"},{"index":2,"fields":{"height":"1200″,"width":"2000″},"mediaType":"Image","mimeType":"image/jpeg","url":"https://media.guim.co.uk/01eb5a28faf84d67e61a66272881cb76a299fffb/212_142_3680_2208/2000.jpg"},{"index":3,"fields":{"height":"600″,"width":"1000″},"mediaType":"Image","mimeType":"image/jpeg","url":"https://media.guim.co.uk/01eb5a28faf84d67e61a66272881cb76a299fffb/212_142_3680_2208/1000.jpg"},{"index":4,"fields":{"height":"300″,"width":"500″},"mediaType":"Image","mimeType":"image/jpeg","url":"https://media.guim.co.uk/01eb5a28faf84d67e61a66272881cb76a299fffb/212_142_3680_2208/500.jpg"},{"index":5,"fields":{"height":"84″,"width":"140″},"mediaType":"Image","mimeType":"image/jpeg","url":"https://media.guim.co.uk/01eb5a28faf84d67e61a66272881cb76a299fffb/212_142_3680_2208/140.jpg"}]},"knowledge":{"alt":"Harry Kane (proper) of Bayern Munich celebrates with Frans Kraetzig, Bouna Sarr and Thomas Müller after scoring his staff's third purpose.","caption":"Then is congratulated by his teammates.","credit score":"{Photograph}: Edith Geuppert/GES Sportfoto/Getty Pictures"},"displayCredit":true,"function":"inline","imageSources":[{"weighting":"inline","srcSet":[{"src":"https://i.guim.co.uk/img/media/01eb5a28faf84d67e61a66272881cb76a299fffb/212_142_3680_2208/master/3680.jpg?width=620&quality=85&auto=format&fit=max&s=57e4a423f664e234f57e6f4ff03ee387″,"width":620},{"src":"https://i.guim.co.uk/img/media/01eb5a28faf84d67e61a66272881cb76a299fffb/212_142_3680_2208/master/3680.jpg?width=620&quality=45&auto=format&fit=max&dpr=2&s=91bac539ded9af63eb84a07606dee654″,"width":1240},{"src":"https://i.guim.co.uk/img/media/01eb5a28faf84d67e61a66272881cb76a299fffb/212_142_3680_2208/master/3680.jpg?width=605&quality=85&auto=format&fit=max&s=dbcbd589b089ea2fdd93c9a62540f3c5″,"width":605},{"src":"https://i.guim.co.uk/img/media/01eb5a28faf84d67e61a66272881cb76a299fffb/212_142_3680_2208/master/3680.jpg?width=605&quality=45&auto=format&fit=max&dpr=2&s=36cc65ab277dd5f797f83fb9da25a307″,"width":1210},{"src":"https://i.guim.co.uk/img/media/01eb5a28faf84d67e61a66272881cb76a299fffb/212_142_3680_2208/master/3680.jpg?width=445&quality=85&auto=format&fit=max&s=0b30d60615c92b3289a6ed49fcf2a30e","width":445},{"src":"https://i.guim.co.uk/img/media/01eb5a28faf84d67e61a66272881cb76a299fffb/212_142_3680_2208/master/3680.jpg?width=445&quality=45&auto=format&fit=max&dpr=2&s=1b85c07274fd6d0420fc2cebb2751266″,"width":890}]},{"weighting":"thumbnail","srcSet":[{"src":"https://i.guim.co.uk/img/media/01eb5a28faf84d67e61a66272881cb76a299fffb/212_142_3680_2208/master/3680.jpg?width=140&quality=85&auto=format&fit=max&s=8012a7e3c16bb19324e89a69ecc6ffc7″,"width":140},{"src":"https://i.guim.co.uk/img/media/01eb5a28faf84d67e61a66272881cb76a299fffb/212_142_3680_2208/master/3680.jpg?width=140&quality=45&auto=format&fit=max&dpr=2&s=03db59624aa4c04ba92c4328e19bd6d4″,"width":280},{"src":"https://i.guim.co.uk/img/media/01eb5a28faf84d67e61a66272881cb76a299fffb/212_142_3680_2208/master/3680.jpg?width=120&quality=85&auto=format&fit=max&s=86e3233bed049d7eb6d01bc91e8c35a3″,"width":120},{"src":"https://i.guim.co.uk/img/media/01eb5a28faf84d67e61a66272881cb76a299fffb/212_142_3680_2208/master/3680.jpg?width=120&quality=45&auto=format&fit=max&dpr=2&s=27a9eb807f082eea1cf5ecff9e5f1278″,"width":240}]},{"weighting":"supporting","srcSet":[{"src":"https://i.guim.co.uk/img/media/01eb5a28faf84d67e61a66272881cb76a299fffb/212_142_3680_2208/master/3680.jpg?width=380&quality=85&auto=format&fit=max&s=4a6e1c718968dd49b243d549127a09ac","width":380},{"src":"https://i.guim.co.uk/img/media/01eb5a28faf84d67e61a66272881cb76a299fffb/212_142_3680_2208/master/3680.jpg?width=380&quality=45&auto=format&fit=max&dpr=2&s=465df25320faee904fe8bef8a250d1c4″,"width":760},{"src":"https://i.guim.co.uk/img/media/01eb5a28faf84d67e61a66272881cb76a299fffb/212_142_3680_2208/master/3680.jpg?width=300&quality=85&auto=format&fit=max&s=c420e712b9523a7659e673501c1d0fe6″,"width":300},{"src":"https://i.guim.co.uk/img/media/01eb5a28faf84d67e61a66272881cb76a299fffb/212_142_3680_2208/master/3680.jpg?width=300&quality=45&auto=format&fit=max&dpr=2&s=97cd44a01403f0bfbfd0920cb8350949″,"width":600},{"src":"https://i.guim.co.uk/img/media/01eb5a28faf84d67e61a66272881cb76a299fffb/212_142_3680_2208/master/3680.jpg?width=620&quality=85&auto=format&fit=max&s=57e4a423f664e234f57e6f4ff03ee387″,"width":620},{"src":"https://i.guim.co.uk/img/media/01eb5a28faf84d67e61a66272881cb76a299fffb/212_142_3680_2208/master/3680.jpg?width=620&quality=45&auto=format&fit=max&dpr=2&s=91bac539ded9af63eb84a07606dee654″,"width":1240},{"src":"https://i.guim.co.uk/img/media/01eb5a28faf84d67e61a66272881cb76a299fffb/212_142_3680_2208/master/3680.jpg?width=605&quality=85&auto=format&fit=max&s=dbcbd589b089ea2fdd93c9a62540f3c5″,"width":605},{"src":"https://i.guim.co.uk/img/media/01eb5a28faf84d67e61a66272881cb76a299fffb/212_142_3680_2208/master/3680.jpg?width=605&quality=45&auto=format&fit=max&dpr=2&s=36cc65ab277dd5f797f83fb9da25a307″,"width":1210},{"src":"https://i.guim.co.uk/img/media/01eb5a28faf84d67e61a66272881cb76a299fffb/212_142_3680_2208/master/3680.jpg?width=445&quality=85&auto=format&fit=max&s=0b30d60615c92b3289a6ed49fcf2a30e","width":445},{"src":"https://i.guim.co.uk/img/media/01eb5a28faf84d67e61a66272881cb76a299fffb/212_142_3680_2208/master/3680.jpg?width=445&quality=45&auto=format&fit=max&dpr=2&s=1b85c07274fd6d0420fc2cebb2751266″,"width":890}]},{"weighting":"showcase","srcSet":[{"src":"https://i.guim.co.uk/img/media/01eb5a28faf84d67e61a66272881cb76a299fffb/212_142_3680_2208/master/3680.jpg?width=860&quality=85&auto=format&fit=max&s=2bd06a7845490a50ba0d422538b7e074″,"width":860},{"src":"https://i.guim.co.uk/img/media/01eb5a28faf84d67e61a66272881cb76a299fffb/212_142_3680_2208/master/3680.jpg?width=860&quality=45&auto=format&fit=max&dpr=2&s=44e691200330ac4846b77b476ce2d188″,"width":1720},{"src":"https://i.guim.co.uk/img/media/01eb5a28faf84d67e61a66272881cb76a299fffb/212_142_3680_2208/master/3680.jpg?width=780&quality=85&auto=format&fit=max&s=59a7a4f321df8e4fd393ca20a821af96″,"width":780},{"src":"https://i.guim.co.uk/img/media/01eb5a28faf84d67e61a66272881cb76a299fffb/212_142_3680_2208/master/3680.jpg?width=780&quality=45&auto=format&fit=max&dpr=2&s=c85af1ad01841ef2417e8a169435f7d8″,"width":1560},{"src":"https://i.guim.co.uk/img/media/01eb5a28faf84d67e61a66272881cb76a299fffb/212_142_3680_2208/master/3680.jpg?width=620&quality=85&auto=format&fit=max&s=57e4a423f664e234f57e6f4ff03ee387″,"width":620},{"src":"https://i.guim.co.uk/img/media/01eb5a28faf84d67e61a66272881cb76a299fffb/212_142_3680_2208/master/3680.jpg?width=620&quality=45&auto=format&fit=max&dpr=2&s=91bac539ded9af63eb84a07606dee654″,"width":1240},{"src":"https://i.guim.co.uk/img/media/01eb5a28faf84d67e61a66272881cb76a299fffb/212_142_3680_2208/master/3680.jpg?width=605&quality=85&auto=format&fit=max&s=dbcbd589b089ea2fdd93c9a62540f3c5″,"width":605},{"src":"https://i.guim.co.uk/img/media/01eb5a28faf84d67e61a66272881cb76a299fffb/212_142_3680_2208/master/3680.jpg?width=605&quality=45&auto=format&fit=max&dpr=2&s=36cc65ab277dd5f797f83fb9da25a307″,"width":1210},{"src":"https://i.guim.co.uk/img/media/01eb5a28faf84d67e61a66272881cb76a299fffb/212_142_3680_2208/master/3680.jpg?width=445&quality=85&auto=format&fit=max&s=0b30d60615c92b3289a6ed49fcf2a30e","width":445},{"src":"https://i.guim.co.uk/img/media/01eb5a28faf84d67e61a66272881cb76a299fffb/212_142_3680_2208/master/3680.jpg?width=445&quality=45&auto=format&fit=max&dpr=2&s=1b85c07274fd6d0420fc2cebb2751266″,"width":890}]},{"weighting":"halfwidth","srcSet":[{"src":"https://i.guim.co.uk/img/media/01eb5a28faf84d67e61a66272881cb76a299fffb/212_142_3680_2208/master/3680.jpg?width=620&quality=85&auto=format&fit=max&s=57e4a423f664e234f57e6f4ff03ee387″,"width":620},{"src":"https://i.guim.co.uk/img/media/01eb5a28faf84d67e61a66272881cb76a299fffb/212_142_3680_2208/master/3680.jpg?width=620&quality=45&auto=format&fit=max&dpr=2&s=91bac539ded9af63eb84a07606dee654″,"width":1240},{"src":"https://i.guim.co.uk/img/media/01eb5a28faf84d67e61a66272881cb76a299fffb/212_142_3680_2208/master/3680.jpg?width=605&quality=85&auto=format&fit=max&s=dbcbd589b089ea2fdd93c9a62540f3c5″,"width":605},{"src":"https://i.guim.co.uk/img/media/01eb5a28faf84d67e61a66272881cb76a299fffb/212_142_3680_2208/master/3680.jpg?width=605&quality=45&auto=format&fit=max&dpr=2&s=36cc65ab277dd5f797f83fb9da25a307″,"width":1210},{"src":"https://i.guim.co.uk/img/media/01eb5a28faf84d67e61a66272881cb76a299fffb/212_142_3680_2208/master/3680.jpg?width=445&quality=85&auto=format&fit=max&s=0b30d60615c92b3289a6ed49fcf2a30e","width":445},{"src":"https://i.guim.co.uk/img/media/01eb5a28faf84d67e61a66272881cb76a299fffb/212_142_3680_2208/master/3680.jpg?width=445&quality=45&auto=format&fit=max&dpr=2&s=1b85c07274fd6d0420fc2cebb2751266″,"width":890}]},{"weighting":"immersive","srcSet":[{"src":"https://i.guim.co.uk/img/media/01eb5a28faf84d67e61a66272881cb76a299fffb/212_142_3680_2208/master/3680.jpg?width=1900&quality=85&auto=format&fit=max&s=2b68c09b039259c07999104e872fb0f1″,"width":1900},{"src":"https://i.guim.co.uk/img/media/01eb5a28faf84d67e61a66272881cb76a299fffb/212_142_3680_2208/master/3680.jpg?width=1900&quality=45&auto=format&fit=max&dpr=2&s=312642e94e6d5e143ff538f3ffc02ac3″,"width":3800},{"src":"https://i.guim.co.uk/img/media/01eb5a28faf84d67e61a66272881cb76a299fffb/212_142_3680_2208/master/3680.jpg?width=1300&quality=85&auto=format&fit=max&s=149593dcf7e84c3b3fb98ced65d7aeff","width":1300},{"src":"https://i.guim.co.uk/img/media/01eb5a28faf84d67e61a66272881cb76a299fffb/212_142_3680_2208/master/3680.jpg?width=1300&quality=45&auto=format&fit=max&dpr=2&s=59ae88ce12384eb7db8df11470adeff2″,"width":2600},{"src":"https://i.guim.co.uk/img/media/01eb5a28faf84d67e61a66272881cb76a299fffb/212_142_3680_2208/master/3680.jpg?width=1140&quality=85&auto=format&fit=max&s=21c5804a6ed1a9b67b4e6503c24d9fa7″,"width":1140},{"src":"https://i.guim.co.uk/img/media/01eb5a28faf84d67e61a66272881cb76a299fffb/212_142_3680_2208/master/3680.jpg?width=1140&quality=45&auto=format&fit=max&dpr=2&s=146d83ee0dbfff7e15bf373eb8627675″,"width":2280},{"src":"https://i.guim.co.uk/img/media/01eb5a28faf84d67e61a66272881cb76a299fffb/212_142_3680_2208/master/3680.jpg?width=980&quality=85&auto=format&fit=max&s=0bb2f61384f1e5c6b8932fbb08a90fad","width":980},{"src":"https://i.guim.co.uk/img/media/01eb5a28faf84d67e61a66272881cb76a299fffb/212_142_3680_2208/master/3680.jpg?width=980&quality=45&auto=format&fit=max&dpr=2&s=b3615792124038e0275682bb431f5d61″,"width":1960},{"src":"https://i.guim.co.uk/img/media/01eb5a28faf84d67e61a66272881cb76a299fffb/212_142_3680_2208/master/3680.jpg?width=740&quality=85&auto=format&fit=max&s=c4003aacfaa61e31c7cd49061e3df137″,"width":740},{"src":"https://i.guim.co.uk/img/media/01eb5a28faf84d67e61a66272881cb76a299fffb/212_142_3680_2208/master/3680.jpg?width=740&quality=45&auto=format&fit=max&dpr=2&s=8b22193a66993bb6b6b871148af6ea3e","width":1480},{"src":"https://i.guim.co.uk/img/media/01eb5a28faf84d67e61a66272881cb76a299fffb/212_142_3680_2208/master/3680.jpg?width=660&quality=85&auto=format&fit=max&s=09abede38749260c71ea253132965383″,"width":660},{"src":"https://i.guim.co.uk/img/media/01eb5a28faf84d67e61a66272881cb76a299fffb/212_142_3680_2208/master/3680.jpg?width=660&quality=45&auto=format&fit=max&dpr=2&s=b6084e3a4e5f5fa6d2c2fc591f2adb8c","width":1320},{"src":"https://i.guim.co.uk/img/media/01eb5a28faf84d67e61a66272881cb76a299fffb/212_142_3680_2208/master/3680.jpg?width=480&quality=85&auto=format&fit=max&s=3715af56a160b51cab49701407893262″,"width":480},{"src":"https://i.guim.co.uk/img/media/01eb5a28faf84d67e61a66272881cb76a299fffb/212_142_3680_2208/master/3680.jpg?width=480&quality=45&auto=format&fit=max&dpr=2&s=6630b5834e81fead84122b4052f8e998″,"width":960}]}],"elementId":"06a20733-4040-4766-a9be-ffaa8a94f95d"}],"attributes":{"pinned":false,"keyEvent":true,"abstract":false},"blockCreatedOn":1699124478000,"blockCreatedOnDisplay":"15.01 EDT","blockLastUpdated":1699126372000,"blockLastUpdatedDisplay":"15.32 EDT","blockFirstPublished":1699124537000,"blockFirstPublishedDisplay":"15.02 EDT","blockFirstPublishedDisplayNoTimezone":"15.02″,"title":"GOAL! Dortmund 0-3 Bayern (Kane 72)","contributors":[],"primaryDateLine":"Sat 4 Nov 2023 15.47 EDT","secondaryDateLine":"First printed on Sat 4 Nov 2023 12.41 EDT"},{"id":"65468b1b8f08293ffae531ba","components":[{"_type":"model.dotcomrendering.pageElements.TextBlockElement","html":"

Bayern were 2-0 up after just nine minutes, with Kane and Upamecano the goalscorers. Dortmund simply haven't turned up yet, with the visitors dominating possession and looking quite frightening on the counter. Musiala, Sané and Coman have provided some artistic flourishes in the attacking third, and Kane's enjoying himself too.

","elementId":"4847b754-8f76-4021-a4f8-3eee1d2d1f40″}],"attributes":{"pinned":false,"keyEvent":true,"abstract":false},"blockCreatedOn":1699121947000,"blockCreatedOnDisplay":"14.19 EDT","blockLastUpdated":1699122133000,"blockLastUpdatedDisplay":"14.22 EDT","blockFirstPublished":1699122133000,"blockFirstPublishedDisplay":"14.22 EDT","blockFirstPublishedDisplayNoTimezone":"14.22″,"title":"HALF-TIME: Dortmund 0-2 Bayern","contributors":[],"primaryDateLine":"Sat 4 Nov 2023 15.47 EDT","secondaryDateLine":"First printed on Sat 4 Nov 2023 12.41 EDT"},{"id":"654681b18f08af73b5ca8954″,"components":[{"_type":"model.dotcomrendering.pageElements.TextBlockElement","html":"

Oh my. Bayern are all over them. Musiala counters and plays in Sané on the left, who works a lovely first-time ball across the box and, yes, Harry's there for his 15th goal of the season.

","elementId":"d76e81db-2698-490a-a5d6-d7441fa31a30″},{"_type":"model.dotcomrendering.pageElements.ImageBlockElement","media":{"allImages":[{"index":0,"fields":{"height":"1861″,"width":"3101″},"mediaType":"Image","mimeType":"image/jpeg","url":"https://media.guim.co.uk/760ed7a779ff25f858e8cbdf81727a3787a3b373/0_203_3101_1861/3101.jpg"},{"index":1,"fields":{"isMaster":"true","height":"1861″,"width":"3101″},"mediaType":"Image","mimeType":"image/jpeg","url":"https://media.guim.co.uk/760ed7a779ff25f858e8cbdf81727a3787a3b373/0_203_3101_1861/master/3101.jpg"},{"index":2,"fields":{"height":"1200″,"width":"2000″},"mediaType":"Image","mimeType":"image/jpeg","url":"https://media.guim.co.uk/760ed7a779ff25f858e8cbdf81727a3787a3b373/0_203_3101_1861/2000.jpg"},{"index":3,"fields":{"height":"600″,"width":"1000″},"mediaType":"Image","mimeType":"image/jpeg","url":"https://media.guim.co.uk/760ed7a779ff25f858e8cbdf81727a3787a3b373/0_203_3101_1861/1000.jpg"},{"index":4,"fields":{"height":"300″,"width":"500″},"mediaType":"Image","mimeType":"image/jpeg","url":"https://media.guim.co.uk/760ed7a779ff25f858e8cbdf81727a3787a3b373/0_203_3101_1861/500.jpg"},{"index":5,"fields":{"height":"84″,"width":"140″},"mediaType":"Image","mimeType":"image/jpeg","url":"https://media.guim.co.uk/760ed7a779ff25f858e8cbdf81727a3787a3b373/0_203_3101_1861/140.jpg"}]},"knowledge":{"alt":"Harry Kane fires a shot previous Dortmund's keeper Gregor Kobel to double Bayern Munich's lead.","caption":"Harry Kane fires a shot previous Dortmund's keeper Gregor Kobel to double Bayern Munich's lead.","credit score":"{Photograph}: Wolfgang Rattay/Reuters"},"displayCredit":true,"function":"inline","imageSources":[{"weighting":"inline","srcSet":[{"src":"https://i.guim.co.uk/img/media/760ed7a779ff25f858e8cbdf81727a3787a3b373/0_203_3101_1861/master/3101.jpg?width=620&quality=85&auto=format&fit=max&s=1673e11456db7ef552bab659867b2445″,"width":620},{"src":"https://i.guim.co.uk/img/media/760ed7a779ff25f858e8cbdf81727a3787a3b373/0_203_3101_1861/master/3101.jpg?width=620&quality=45&auto=format&fit=max&dpr=2&s=1deb74e684ccd4862903517919d900ec","width":1240},{"src":"https://i.guim.co.uk/img/media/760ed7a779ff25f858e8cbdf81727a3787a3b373/0_203_3101_1861/master/3101.jpg?width=605&quality=85&auto=format&fit=max&s=451a62dd29339a348c2a4dcfe0c33321″,"width":605},{"src":"https://i.guim.co.uk/img/media/760ed7a779ff25f858e8cbdf81727a3787a3b373/0_203_3101_1861/master/3101.jpg?width=605&quality=45&auto=format&fit=max&dpr=2&s=ded664f77b3f15938bc6b318deece501″,"width":1210},{"src":"https://i.guim.co.uk/img/media/760ed7a779ff25f858e8cbdf81727a3787a3b373/0_203_3101_1861/master/3101.jpg?width=445&quality=85&auto=format&fit=max&s=8c109e361b081929c8f07c6c96f9846e","width":445},{"src":"https://i.guim.co.uk/img/media/760ed7a779ff25f858e8cbdf81727a3787a3b373/0_203_3101_1861/master/3101.jpg?width=445&quality=45&auto=format&fit=max&dpr=2&s=6f640bccb0c170e2bc8e788132149889″,"width":890}]},{"weighting":"thumbnail","srcSet":[{"src":"https://i.guim.co.uk/img/media/760ed7a779ff25f858e8cbdf81727a3787a3b373/0_203_3101_1861/master/3101.jpg?width=140&quality=85&auto=format&fit=max&s=e2c2e302d24ef01eb02668bd4f297115″,"width":140},{"src":"https://i.guim.co.uk/img/media/760ed7a779ff25f858e8cbdf81727a3787a3b373/0_203_3101_1861/master/3101.jpg?width=140&quality=45&auto=format&fit=max&dpr=2&s=1530443611b1ab5fe0ac1be8dadc431f","width":280},{"src":"https://i.guim.co.uk/img/media/760ed7a779ff25f858e8cbdf81727a3787a3b373/0_203_3101_1861/master/3101.jpg?width=120&quality=85&auto=format&fit=max&s=61fabe1a763ed7b0345235e10a514c93″,"width":120},{"src":"https://i.guim.co.uk/img/media/760ed7a779ff25f858e8cbdf81727a3787a3b373/0_203_3101_1861/master/3101.jpg?width=120&quality=45&auto=format&fit=max&dpr=2&s=80e3322df0eae1611c5bd715dc1377f8″,"width":240}]},{"weighting":"supporting","srcSet":[{"src":"https://i.guim.co.uk/img/media/760ed7a779ff25f858e8cbdf81727a3787a3b373/0_203_3101_1861/master/3101.jpg?width=380&quality=85&auto=format&fit=max&s=7c8d279ce565100097d9698e3502d92e","width":380},{"src":"https://i.guim.co.uk/img/media/760ed7a779ff25f858e8cbdf81727a3787a3b373/0_203_3101_1861/master/3101.jpg?width=380&quality=45&auto=format&fit=max&dpr=2&s=df830f18ccb3624640fabd05fe70fcd2″,"width":760},{"src":"https://i.guim.co.uk/img/media/760ed7a779ff25f858e8cbdf81727a3787a3b373/0_203_3101_1861/master/3101.jpg?width=300&quality=85&auto=format&fit=max&s=33eb579185e861c8e880996eb4f7f272″,"width":300},{"src":"https://i.guim.co.uk/img/media/760ed7a779ff25f858e8cbdf81727a3787a3b373/0_203_3101_1861/master/3101.jpg?width=300&quality=45&auto=format&fit=max&dpr=2&s=1bc733f289afc52efc1cc0fc44dde5f1″,"width":600},{"src":"https://i.guim.co.uk/img/media/760ed7a779ff25f858e8cbdf81727a3787a3b373/0_203_3101_1861/master/3101.jpg?width=620&quality=85&auto=format&fit=max&s=1673e11456db7ef552bab659867b2445″,"width":620},{"src":"https://i.guim.co.uk/img/media/760ed7a779ff25f858e8cbdf81727a3787a3b373/0_203_3101_1861/master/3101.jpg?width=620&quality=45&auto=format&fit=max&dpr=2&s=1deb74e684ccd4862903517919d900ec","width":1240},{"src":"https://i.guim.co.uk/img/media/760ed7a779ff25f858e8cbdf81727a3787a3b373/0_203_3101_1861/master/3101.jpg?width=605&quality=85&auto=format&fit=max&s=451a62dd29339a348c2a4dcfe0c33321″,"width":605},{"src":"https://i.guim.co.uk/img/media/760ed7a779ff25f858e8cbdf81727a3787a3b373/0_203_3101_1861/master/3101.jpg?width=605&quality=45&auto=format&fit=max&dpr=2&s=ded664f77b3f15938bc6b318deece501″,"width":1210},{"src":"https://i.guim.co.uk/img/media/760ed7a779ff25f858e8cbdf81727a3787a3b373/0_203_3101_1861/master/3101.jpg?width=445&quality=85&auto=format&fit=max&s=8c109e361b081929c8f07c6c96f9846e","width":445},{"src":"https://i.guim.co.uk/img/media/760ed7a779ff25f858e8cbdf81727a3787a3b373/0_203_3101_1861/master/3101.jpg?width=445&quality=45&auto=format&fit=max&dpr=2&s=6f640bccb0c170e2bc8e788132149889″,"width":890}]},{"weighting":"showcase","srcSet":[{"src":"https://i.guim.co.uk/img/media/760ed7a779ff25f858e8cbdf81727a3787a3b373/0_203_3101_1861/master/3101.jpg?width=860&quality=85&auto=format&fit=max&s=0948450b0ed0bc37773ed6e1d003b240″,"width":860},{"src":"https://i.guim.co.uk/img/media/760ed7a779ff25f858e8cbdf81727a3787a3b373/0_203_3101_1861/master/3101.jpg?width=860&quality=45&auto=format&fit=max&dpr=2&s=fcfb32e70af0ce01a4cdea44af930b35″,"width":1720},{"src":"https://i.guim.co.uk/img/media/760ed7a779ff25f858e8cbdf81727a3787a3b373/0_203_3101_1861/master/3101.jpg?width=780&quality=85&auto=format&fit=max&s=ecd632a7d0076d5f979c2e51b06d3743″,"width":780},{"src":"https://i.guim.co.uk/img/media/760ed7a779ff25f858e8cbdf81727a3787a3b373/0_203_3101_1861/master/3101.jpg?width=780&quality=45&auto=format&fit=max&dpr=2&s=31e166ba3b59bfdc07e8331c59c96519″,"width":1560},{"src":"https://i.guim.co.uk/img/media/760ed7a779ff25f858e8cbdf81727a3787a3b373/0_203_3101_1861/master/3101.jpg?width=620&quality=85&auto=format&fit=max&s=1673e11456db7ef552bab659867b2445″,"width":620},{"src":"https://i.guim.co.uk/img/media/760ed7a779ff25f858e8cbdf81727a3787a3b373/0_203_3101_1861/master/3101.jpg?width=620&quality=45&auto=format&fit=max&dpr=2&s=1deb74e684ccd4862903517919d900ec","width":1240},{"src":"https://i.guim.co.uk/img/media/760ed7a779ff25f858e8cbdf81727a3787a3b373/0_203_3101_1861/master/3101.jpg?width=605&quality=85&auto=format&fit=max&s=451a62dd29339a348c2a4dcfe0c33321″,"width":605},{"src":"https://i.guim.co.uk/img/media/760ed7a779ff25f858e8cbdf81727a3787a3b373/0_203_3101_1861/master/3101.jpg?width=605&quality=45&auto=format&fit=max&dpr=2&s=ded664f77b3f15938bc6b318deece501″,"width":1210},{"src":"https://i.guim.co.uk/img/media/760ed7a779ff25f858e8cbdf81727a3787a3b373/0_203_3101_1861/master/3101.jpg?width=445&quality=85&auto=format&fit=max&s=8c109e361b081929c8f07c6c96f9846e","width":445},{"src":"https://i.guim.co.uk/img/media/760ed7a779ff25f858e8cbdf81727a3787a3b373/0_203_3101_1861/master/3101.jpg?width=445&quality=45&auto=format&fit=max&dpr=2&s=6f640bccb0c170e2bc8e788132149889″,"width":890}]},{"weighting":"halfwidth","srcSet":[{"src":"https://i.guim.co.uk/img/media/760ed7a779ff25f858e8cbdf81727a3787a3b373/0_203_3101_1861/master/3101.jpg?width=620&quality=85&auto=format&fit=max&s=1673e11456db7ef552bab659867b2445″,"width":620},{"src":"https://i.guim.co.uk/img/media/760ed7a779ff25f858e8cbdf81727a3787a3b373/0_203_3101_1861/master/3101.jpg?width=620&quality=45&auto=format&fit=max&dpr=2&s=1deb74e684ccd4862903517919d900ec","width":1240},{"src":"https://i.guim.co.uk/img/media/760ed7a779ff25f858e8cbdf81727a3787a3b373/0_203_3101_1861/master/3101.jpg?width=605&quality=85&auto=format&fit=max&s=451a62dd29339a348c2a4dcfe0c33321″,"width":605},{"src":"https://i.guim.co.uk/img/media/760ed7a779ff25f858e8cbdf81727a3787a3b373/0_203_3101_1861/master/3101.jpg?width=605&quality=45&auto=format&fit=max&dpr=2&s=ded664f77b3f15938bc6b318deece501″,"width":1210},{"src":"https://i.guim.co.uk/img/media/760ed7a779ff25f858e8cbdf81727a3787a3b373/0_203_3101_1861/master/3101.jpg?width=445&quality=85&auto=format&fit=max&s=8c109e361b081929c8f07c6c96f9846e","width":445},{"src":"https://i.guim.co.uk/img/media/760ed7a779ff25f858e8cbdf81727a3787a3b373/0_203_3101_1861/master/3101.jpg?width=445&quality=45&auto=format&fit=max&dpr=2&s=6f640bccb0c170e2bc8e788132149889″,"width":890}]},{"weighting":"immersive","srcSet":[{"src":"https://i.guim.co.uk/img/media/760ed7a779ff25f858e8cbdf81727a3787a3b373/0_203_3101_1861/master/3101.jpg?width=1900&quality=85&auto=format&fit=max&s=9f962b8cd1ac77718508eb8fc4fa2108″,"width":1900},{"src":"https://i.guim.co.uk/img/media/760ed7a779ff25f858e8cbdf81727a3787a3b373/0_203_3101_1861/master/3101.jpg?width=1900&quality=45&auto=format&fit=max&dpr=2&s=99a549bd9e8225739042a3f472f5c362″,"width":3800},{"src":"https://i.guim.co.uk/img/media/760ed7a779ff25f858e8cbdf81727a3787a3b373/0_203_3101_1861/master/3101.jpg?width=1300&quality=85&auto=format&fit=max&s=fbde87cf575bb7257d2fce56c95e5656″,"width":1300},{"src":"https://i.guim.co.uk/img/media/760ed7a779ff25f858e8cbdf81727a3787a3b373/0_203_3101_1861/master/3101.jpg?width=1300&quality=45&auto=format&fit=max&dpr=2&s=b988c68539605da9f18f7bfbe687f20e","width":2600},{"src":"https://i.guim.co.uk/img/media/760ed7a779ff25f858e8cbdf81727a3787a3b373/0_203_3101_1861/master/3101.jpg?width=1140&quality=85&auto=format&fit=max&s=d0894d3cb00b6a212f617c2a9fa496df","width":1140},{"src":"https://i.guim.co.uk/img/media/760ed7a779ff25f858e8cbdf81727a3787a3b373/0_203_3101_1861/master/3101.jpg?width=1140&quality=45&auto=format&fit=max&dpr=2&s=c48c2121204b911c1bf0591717b9967e","width":2280},{"src":"https://i.guim.co.uk/img/media/760ed7a779ff25f858e8cbdf81727a3787a3b373/0_203_3101_1861/master/3101.jpg?width=980&quality=85&auto=format&fit=max&s=0315e1f836ad84a5bf9940438efa81ca","width":980},{"src":"https://i.guim.co.uk/img/media/760ed7a779ff25f858e8cbdf81727a3787a3b373/0_203_3101_1861/master/3101.jpg?width=980&quality=45&auto=format&fit=max&dpr=2&s=c04a1a4b6aad4d4af0789d6b56d5d09d","width":1960},{"src":"https://i.guim.co.uk/img/media/760ed7a779ff25f858e8cbdf81727a3787a3b373/0_203_3101_1861/master/3101.jpg?width=740&quality=85&auto=format&fit=max&s=302800465ba3cd0e39f5514c63f35682″,"width":740},{"src":"https://i.guim.co.uk/img/media/760ed7a779ff25f858e8cbdf81727a3787a3b373/0_203_3101_1861/master/3101.jpg?width=740&quality=45&auto=format&fit=max&dpr=2&s=41f0fc387434f8fb55d9626956a7531f","width":1480},{"src":"https://i.guim.co.uk/img/media/760ed7a779ff25f858e8cbdf81727a3787a3b373/0_203_3101_1861/master/3101.jpg?width=660&quality=85&auto=format&fit=max&s=464ec7e533cbb7d68e5fdf1eefe564a8″,"width":660},{"src":"https://i.guim.co.uk/img/media/760ed7a779ff25f858e8cbdf81727a3787a3b373/0_203_3101_1861/master/3101.jpg?width=660&quality=45&auto=format&fit=max&dpr=2&s=cd53b591521723172abff92443d79e61″,"width":1320},{"src":"https://i.guim.co.uk/img/media/760ed7a779ff25f858e8cbdf81727a3787a3b373/0_203_3101_1861/master/3101.jpg?width=480&quality=85&auto=format&fit=max&s=c51f085d27d034d26be026cd9254c3ae","width":480},{"src":"https://i.guim.co.uk/img/media/760ed7a779ff25f858e8cbdf81727a3787a3b373/0_203_3101_1861/master/3101.jpg?width=480&quality=45&auto=format&fit=max&dpr=2&s=f9d9bda2d77a0dd11c11a6e14b3824af","width":960}]}],"elementId":"c97279ed-a39d-4f90-b92e-c5459323ecbb"},{"_type":"mannequin.dotcomrendering.pageElements.ImageBlockElement","media":{"allImages":[{"index":0,"fields":{"height":"2311″,"width":"3558″},"mediaType":"Image","mimeType":"image/jpeg","url":"https://media.guim.co.uk/cb4156a44c66946a113b2d03077fe5615a6713ed/0_78_3558_2311/3558.jpg"},{"index":1,"fields":{"isMaster":"true","height":"2311″,"width":"3558″},"mediaType":"Image","mimeType":"image/jpeg","url":"https://media.guim.co.uk/cb4156a44c66946a113b2d03077fe5615a6713ed/0_78_3558_2311/master/3558.jpg"},{"index":2,"fields":{"height":"1299″,"width":"2000″},"mediaType":"Image","mimeType":"image/jpeg","url":"https://media.guim.co.uk/cb4156a44c66946a113b2d03077fe5615a6713ed/0_78_3558_2311/2000.jpg"},{"index":3,"fields":{"height":"650″,"width":"1000″},"mediaType":"Image","mimeType":"image/jpeg","url":"https://media.guim.co.uk/cb4156a44c66946a113b2d03077fe5615a6713ed/0_78_3558_2311/1000.jpg"},{"index":4,"fields":{"height":"325″,"width":"500″},"mediaType":"Image","mimeType":"image/jpeg","url":"https://media.guim.co.uk/cb4156a44c66946a113b2d03077fe5615a6713ed/0_78_3558_2311/500.jpg"},{"index":5,"fields":{"height":"91″,"width":"140″},"mediaType":"Image","mimeType":"image/jpeg","url":"https://media.guim.co.uk/cb4156a44c66946a113b2d03077fe5615a6713ed/0_78_3558_2311/140.jpg"}]},"knowledge":{"alt":"Harry Kane of Bayern Munich celebrates after scoring the staff's second purpose towards Borussia Dortmund.","caption":"Kane wheels away in celebration.","credit score":"{Photograph}: Lars Baron/Getty Pictures"},"displayCredit":true,"function":"inline","imageSources":[{"weighting":"inline","srcSet":[{"src":"https://i.guim.co.uk/img/media/cb4156a44c66946a113b2d03077fe5615a6713ed/0_78_3558_2311/master/3558.jpg?width=620&quality=85&auto=format&fit=max&s=4a089f5fa0a82361de9b1a58d234e20a","width":620},{"src":"https://i.guim.co.uk/img/media/cb4156a44c66946a113b2d03077fe5615a6713ed/0_78_3558_2311/master/3558.jpg?width=620&quality=45&auto=format&fit=max&dpr=2&s=1c6c8f6c08973b9fe3fb947c2221c98e","width":1240},{"src":"https://i.guim.co.uk/img/media/cb4156a44c66946a113b2d03077fe5615a6713ed/0_78_3558_2311/master/3558.jpg?width=605&quality=85&auto=format&fit=max&s=b43094286ef1fc1ce466ef81c848c8c4″,"width":605},{"src":"https://i.guim.co.uk/img/media/cb4156a44c66946a113b2d03077fe5615a6713ed/0_78_3558_2311/master/3558.jpg?width=605&quality=45&auto=format&fit=max&dpr=2&s=0ee57266d818c0b16a8f7c35534675e3″,"width":1210},{"src":"https://i.guim.co.uk/img/media/cb4156a44c66946a113b2d03077fe5615a6713ed/0_78_3558_2311/master/3558.jpg?width=445&quality=85&auto=format&fit=max&s=7e2c3784da9d6bf190fe306a9a827968″,"width":445},{"src":"https://i.guim.co.uk/img/media/cb4156a44c66946a113b2d03077fe5615a6713ed/0_78_3558_2311/master/3558.jpg?width=445&quality=45&auto=format&fit=max&dpr=2&s=5d0547b0527dcbb046fc22eae37d4968″,"width":890}]},{"weighting":"thumbnail","srcSet":[{"src":"https://i.guim.co.uk/img/media/cb4156a44c66946a113b2d03077fe5615a6713ed/0_78_3558_2311/master/3558.jpg?width=140&quality=85&auto=format&fit=max&s=428630c51e0137e28489a3806c8c6f52″,"width":140},{"src":"https://i.guim.co.uk/img/media/cb4156a44c66946a113b2d03077fe5615a6713ed/0_78_3558_2311/master/3558.jpg?width=140&quality=45&auto=format&fit=max&dpr=2&s=b6f65ab28c52a5f99d2e295fdc3521d4″,"width":280},{"src":"https://i.guim.co.uk/img/media/cb4156a44c66946a113b2d03077fe5615a6713ed/0_78_3558_2311/master/3558.jpg?width=120&quality=85&auto=format&fit=max&s=930ddf3a3c1ee67a86ec97520c8f112f","width":120},{"src":"https://i.guim.co.uk/img/media/cb4156a44c66946a113b2d03077fe5615a6713ed/0_78_3558_2311/master/3558.jpg?width=120&quality=45&auto=format&fit=max&dpr=2&s=cd30742b9c95821de4cae2274fa0deb1″,"width":240}]},{"weighting":"supporting","srcSet":[{"src":"https://i.guim.co.uk/img/media/cb4156a44c66946a113b2d03077fe5615a6713ed/0_78_3558_2311/master/3558.jpg?width=380&quality=85&auto=format&fit=max&s=9d716fb155f3b9b2af861ffa37b22e5a","width":380},{"src":"https://i.guim.co.uk/img/media/cb4156a44c66946a113b2d03077fe5615a6713ed/0_78_3558_2311/master/3558.jpg?width=380&quality=45&auto=format&fit=max&dpr=2&s=724feb162388820af01b65eff32fcd7b","width":760},{"src":"https://i.guim.co.uk/img/media/cb4156a44c66946a113b2d03077fe5615a6713ed/0_78_3558_2311/master/3558.jpg?width=300&quality=85&auto=format&fit=max&s=d011de4050bf489d9a71a5ee4f21a4d5″,"width":300},{"src":"https://i.guim.co.uk/img/media/cb4156a44c66946a113b2d03077fe5615a6713ed/0_78_3558_2311/master/3558.jpg?width=300&quality=45&auto=format&fit=max&dpr=2&s=ef20d1c60586fa1c3eff716a95b44c18″,"width":600},{"src":"https://i.guim.co.uk/img/media/cb4156a44c66946a113b2d03077fe5615a6713ed/0_78_3558_2311/master/3558.jpg?width=620&quality=85&auto=format&fit=max&s=4a089f5fa0a82361de9b1a58d234e20a","width":620},{"src":"https://i.guim.co.uk/img/media/cb4156a44c66946a113b2d03077fe5615a6713ed/0_78_3558_2311/master/3558.jpg?width=620&quality=45&auto=format&fit=max&dpr=2&s=1c6c8f6c08973b9fe3fb947c2221c98e","width":1240},{"src":"https://i.guim.co.uk/img/media/cb4156a44c66946a113b2d03077fe5615a6713ed/0_78_3558_2311/master/3558.jpg?width=605&quality=85&auto=format&fit=max&s=b43094286ef1fc1ce466ef81c848c8c4″,"width":605},{"src":"https://i.guim.co.uk/img/media/cb4156a44c66946a113b2d03077fe5615a6713ed/0_78_3558_2311/master/3558.jpg?width=605&quality=45&auto=format&fit=max&dpr=2&s=0ee57266d818c0b16a8f7c35534675e3″,"width":1210},{"src":"https://i.guim.co.uk/img/media/cb4156a44c66946a113b2d03077fe5615a6713ed/0_78_3558_2311/master/3558.jpg?width=445&quality=85&auto=format&fit=max&s=7e2c3784da9d6bf190fe306a9a827968″,"width":445},{"src":"https://i.guim.co.uk/img/media/cb4156a44c66946a113b2d03077fe5615a6713ed/0_78_3558_2311/master/3558.jpg?width=445&quality=45&auto=format&fit=max&dpr=2&s=5d0547b0527dcbb046fc22eae37d4968″,"width":890}]},{"weighting":"showcase","srcSet":[{"src":"https://i.guim.co.uk/img/media/cb4156a44c66946a113b2d03077fe5615a6713ed/0_78_3558_2311/master/3558.jpg?width=860&quality=85&auto=format&fit=max&s=f3e555c71c2380985141669a0021b13d","width":860},{"src":"https://i.guim.co.uk/img/media/cb4156a44c66946a113b2d03077fe5615a6713ed/0_78_3558_2311/master/3558.jpg?width=860&quality=45&auto=format&fit=max&dpr=2&s=0cdd7443e723f354f9ccd090c3c0a46f","width":1720},{"src":"https://i.guim.co.uk/img/media/cb4156a44c66946a113b2d03077fe5615a6713ed/0_78_3558_2311/master/3558.jpg?width=780&quality=85&auto=format&fit=max&s=d2d84fdf073f9217ff3f628aae25891d","width":780},{"src":"https://i.guim.co.uk/img/media/cb4156a44c66946a113b2d03077fe5615a6713ed/0_78_3558_2311/master/3558.jpg?width=780&quality=45&auto=format&fit=max&dpr=2&s=2e14a542ac0837db51828e2a8bd69ec8″,"width":1560},{"src":"https://i.guim.co.uk/img/media/cb4156a44c66946a113b2d03077fe5615a6713ed/0_78_3558_2311/master/3558.jpg?width=620&quality=85&auto=format&fit=max&s=4a089f5fa0a82361de9b1a58d234e20a","width":620},{"src":"https://i.guim.co.uk/img/media/cb4156a44c66946a113b2d03077fe5615a6713ed/0_78_3558_2311/master/3558.jpg?width=620&quality=45&auto=format&fit=max&dpr=2&s=1c6c8f6c08973b9fe3fb947c2221c98e","width":1240},{"src":"https://i.guim.co.uk/img/media/cb4156a44c66946a113b2d03077fe5615a6713ed/0_78_3558_2311/master/3558.jpg?width=605&quality=85&auto=format&fit=max&s=b43094286ef1fc1ce466ef81c848c8c4″,"width":605},{"src":"https://i.guim.co.uk/img/media/cb4156a44c66946a113b2d03077fe5615a6713ed/0_78_3558_2311/master/3558.jpg?width=605&quality=45&auto=format&fit=max&dpr=2&s=0ee57266d818c0b16a8f7c35534675e3″,"width":1210},{"src":"https://i.guim.co.uk/img/media/cb4156a44c66946a113b2d03077fe5615a6713ed/0_78_3558_2311/master/3558.jpg?width=445&quality=85&auto=format&fit=max&s=7e2c3784da9d6bf190fe306a9a827968″,"width":445},{"src":"https://i.guim.co.uk/img/media/cb4156a44c66946a113b2d03077fe5615a6713ed/0_78_3558_2311/master/3558.jpg?width=445&quality=45&auto=format&fit=max&dpr=2&s=5d0547b0527dcbb046fc22eae37d4968″,"width":890}]},{"weighting":"halfwidth","srcSet":[{"src":"https://i.guim.co.uk/img/media/cb4156a44c66946a113b2d03077fe5615a6713ed/0_78_3558_2311/master/3558.jpg?width=620&quality=85&auto=format&fit=max&s=4a089f5fa0a82361de9b1a58d234e20a","width":620},{"src":"https://i.guim.co.uk/img/media/cb4156a44c66946a113b2d03077fe5615a6713ed/0_78_3558_2311/master/3558.jpg?width=620&quality=45&auto=format&fit=max&dpr=2&s=1c6c8f6c08973b9fe3fb947c2221c98e","width":1240},{"src":"https://i.guim.co.uk/img/media/cb4156a44c66946a113b2d03077fe5615a6713ed/0_78_3558_2311/master/3558.jpg?width=605&quality=85&auto=format&fit=max&s=b43094286ef1fc1ce466ef81c848c8c4″,"width":605},{"src":"https://i.guim.co.uk/img/media/cb4156a44c66946a113b2d03077fe5615a6713ed/0_78_3558_2311/master/3558.jpg?width=605&quality=45&auto=format&fit=max&dpr=2&s=0ee57266d818c0b16a8f7c35534675e3″,"width":1210},{"src":"https://i.guim.co.uk/img/media/cb4156a44c66946a113b2d03077fe5615a6713ed/0_78_3558_2311/master/3558.jpg?width=445&quality=85&auto=format&fit=max&s=7e2c3784da9d6bf190fe306a9a827968″,"width":445},{"src":"https://i.guim.co.uk/img/media/cb4156a44c66946a113b2d03077fe5615a6713ed/0_78_3558_2311/master/3558.jpg?width=445&quality=45&auto=format&fit=max&dpr=2&s=5d0547b0527dcbb046fc22eae37d4968″,"width":890}]},{"weighting":"immersive","srcSet":[{"src":"https://i.guim.co.uk/img/media/cb4156a44c66946a113b2d03077fe5615a6713ed/0_78_3558_2311/master/3558.jpg?width=1900&quality=85&auto=format&fit=max&s=84517e2ec2879bdd89ae261c3743fd93″,"width":1900},{"src":"https://i.guim.co.uk/img/media/cb4156a44c66946a113b2d03077fe5615a6713ed/0_78_3558_2311/master/3558.jpg?width=1900&quality=45&auto=format&fit=max&dpr=2&s=53e15b4bd1e248423376afc687c0b479″,"width":3800},{"src":"https://i.guim.co.uk/img/media/cb4156a44c66946a113b2d03077fe5615a6713ed/0_78_3558_2311/master/3558.jpg?width=1300&quality=85&auto=format&fit=max&s=edfe7286fa1682fdcb015176beb92e09″,"width":1300},{"src":"https://i.guim.co.uk/img/media/cb4156a44c66946a113b2d03077fe5615a6713ed/0_78_3558_2311/master/3558.jpg?width=1300&quality=45&auto=format&fit=max&dpr=2&s=41c507af83286732d97f47fbd5a0db8d","width":2600},{"src":"https://i.guim.co.uk/img/media/cb4156a44c66946a113b2d03077fe5615a6713ed/0_78_3558_2311/master/3558.jpg?width=1140&quality=85&auto=format&fit=max&s=2b28c3128f50fc723efcad71624139c0″,"width":1140},{"src":"https://i.guim.co.uk/img/media/cb4156a44c66946a113b2d03077fe5615a6713ed/0_78_3558_2311/master/3558.jpg?width=1140&quality=45&auto=format&fit=max&dpr=2&s=3fa199f028f428042cb265293d56526a","width":2280},{"src":"https://i.guim.co.uk/img/media/cb4156a44c66946a113b2d03077fe5615a6713ed/0_78_3558_2311/master/3558.jpg?width=980&quality=85&auto=format&fit=max&s=f8160274e82ab0ca8951c22caef3248b","width":980},{"src":"https://i.guim.co.uk/img/media/cb4156a44c66946a113b2d03077fe5615a6713ed/0_78_3558_2311/master/3558.jpg?width=980&quality=45&auto=format&fit=max&dpr=2&s=e1c0886983cb2dbcf94cf6a20722e864″,"width":1960},{"src":"https://i.guim.co.uk/img/media/cb4156a44c66946a113b2d03077fe5615a6713ed/0_78_3558_2311/master/3558.jpg?width=740&quality=85&auto=format&fit=max&s=5741af6ca79ce619c6cedd6aaa606c16″,"width":740},{"src":"https://i.guim.co.uk/img/media/cb4156a44c66946a113b2d03077fe5615a6713ed/0_78_3558_2311/master/3558.jpg?width=740&quality=45&auto=format&fit=max&dpr=2&s=a1d712f107d4586097985cd88c85c4a7″,"width":1480},{"src":"https://i.guim.co.uk/img/media/cb4156a44c66946a113b2d03077fe5615a6713ed/0_78_3558_2311/master/3558.jpg?width=660&quality=85&auto=format&fit=max&s=79e5d5bc7f0bf099c7580e5a3a0dc0da","width":660},{"src":"https://i.guim.co.uk/img/media/cb4156a44c66946a113b2d03077fe5615a6713ed/0_78_3558_2311/master/3558.jpg?width=660&quality=45&auto=format&fit=max&dpr=2&s=a649c43e2117a3f21969e5c0b3697475″,"width":1320},{"src":"https://i.guim.co.uk/img/media/cb4156a44c66946a113b2d03077fe5615a6713ed/0_78_3558_2311/master/3558.jpg?width=480&quality=85&auto=format&fit=max&s=dab14aa5003f1d78f42c7d04f634dcb7″,"width":480},{"src":"https://i.guim.co.uk/img/media/cb4156a44c66946a113b2d03077fe5615a6713ed/0_78_3558_2311/master/3558.jpg?width=480&quality=45&auto=format&fit=max&dpr=2&s=b8a633d9686a431ac7b48d9f485aca58″,"width":960}]}],"elementId":"adb877f7-6fe5-460c-92d0-c790380dc0ea"}],"attributes":{"pinned":false,"keyEvent":true,"abstract":false},"blockCreatedOn":1699119537000,"blockCreatedOnDisplay":"13.38 EDT","blockLastUpdated":1699127157000,"blockLastUpdatedDisplay":"15.45 EDT","blockFirstPublished":1699119571000,"blockFirstPublishedDisplay":"13.39 EDT","blockFirstPublishedDisplayNoTimezone":"13.39″,"title":"GOAL! Dortmund 0-2 Bayern (Kane 9)","contributors":[],"primaryDateLine":"Sat 4 Nov 2023 15.47 EDT","secondaryDateLine":"First printed on Sat 4 Nov 2023 12.41 EDT"},{"id":"654680808f08d1827a66c27d","components":[{"_type":"model.dotcomrendering.pageElements.TextBlockElement","html":"

Bayern strike! Upamecano loses his marker and finds himself with a free header inside the six-yard box – he finishes with ease.

","elementId":"2a28a32f-0614-4813-922f-8c8fdf9a0124″},{"_type":"model.dotcomrendering.pageElements.ImageBlockElement","media":{"allImages":[{"index":0,"fields":{"height":"2960″,"width":"4933″},"mediaType":"Image","mimeType":"image/jpeg","url":"https://media.guim.co.uk/e9ae7fe0d2276f88ed6c907ee9df5e7588d08d16/0_107_4933_2960/4933.jpg"},{"index":1,"fields":{"isMaster":"true","height":"2960″,"width":"4933″},"mediaType":"Image","mimeType":"image/jpeg","url":"https://media.guim.co.uk/e9ae7fe0d2276f88ed6c907ee9df5e7588d08d16/0_107_4933_2960/master/4933.jpg"},{"index":2,"fields":{"height":"1200″,"width":"2000″},"mediaType":"Image","mimeType":"image/jpeg","url":"https://media.guim.co.uk/e9ae7fe0d2276f88ed6c907ee9df5e7588d08d16/0_107_4933_2960/2000.jpg"},{"index":3,"fields":{"height":"600″,"width":"1000″},"mediaType":"Image","mimeType":"image/jpeg","url":"https://media.guim.co.uk/e9ae7fe0d2276f88ed6c907ee9df5e7588d08d16/0_107_4933_2960/1000.jpg"},{"index":4,"fields":{"height":"300″,"width":"500″},"mediaType":"Image","mimeType":"image/jpeg","url":"https://media.guim.co.uk/e9ae7fe0d2276f88ed6c907ee9df5e7588d08d16/0_107_4933_2960/500.jpg"},{"index":5,"fields":{"height":"84″,"width":"140″},"mediaType":"Image","mimeType":"image/jpeg","url":"https://media.guim.co.uk/e9ae7fe0d2276f88ed6c907ee9df5e7588d08d16/0_107_4933_2960/140.jpg"}]},"knowledge":{"alt":"Dayot Upamecano of Bayern Munich scores the staff's first purpose.","caption":"Dayot Upamecano opens the scoring.","credit score":"{Photograph}: Lars Baron/Getty Pictures"},"displayCredit":true,"function":"inline","imageSources":[{"weighting":"inline","srcSet":[{"src":"https://i.guim.co.uk/img/media/e9ae7fe0d2276f88ed6c907ee9df5e7588d08d16/0_107_4933_2960/master/4933.jpg?width=620&quality=85&auto=format&fit=max&s=fc35d43b674d24d579ef79caa592cbac","width":620},{"src":"https://i.guim.co.uk/img/media/e9ae7fe0d2276f88ed6c907ee9df5e7588d08d16/0_107_4933_2960/master/4933.jpg?width=620&quality=45&auto=format&fit=max&dpr=2&s=8378b534556ad7633c57720c89667e7a","width":1240},{"src":"https://i.guim.co.uk/img/media/e9ae7fe0d2276f88ed6c907ee9df5e7588d08d16/0_107_4933_2960/master/4933.jpg?width=605&quality=85&auto=format&fit=max&s=0a440b3efa507a3bd7bf3b503392a469″,"width":605},{"src":"https://i.guim.co.uk/img/media/e9ae7fe0d2276f88ed6c907ee9df5e7588d08d16/0_107_4933_2960/master/4933.jpg?width=605&quality=45&auto=format&fit=max&dpr=2&s=cca1072b3e5b9af33e9af8e7b5301a8e","width":1210},{"src":"https://i.guim.co.uk/img/media/e9ae7fe0d2276f88ed6c907ee9df5e7588d08d16/0_107_4933_2960/master/4933.jpg?width=445&quality=85&auto=format&fit=max&s=57e168d1d7ac75b832ef11c24ba36686″,"width":445},{"src":"https://i.guim.co.uk/img/media/e9ae7fe0d2276f88ed6c907ee9df5e7588d08d16/0_107_4933_2960/master/4933.jpg?width=445&quality=45&auto=format&fit=max&dpr=2&s=96864666d4b5eee8eb1f1564dc695e28″,"width":890}]},{"weighting":"thumbnail","srcSet":[{"src":"https://i.guim.co.uk/img/media/e9ae7fe0d2276f88ed6c907ee9df5e7588d08d16/0_107_4933_2960/master/4933.jpg?width=140&quality=85&auto=format&fit=max&s=a7848efeb192d4416394b6f92b2f7207″,"width":140},{"src":"https://i.guim.co.uk/img/media/e9ae7fe0d2276f88ed6c907ee9df5e7588d08d16/0_107_4933_2960/master/4933.jpg?width=140&quality=45&auto=format&fit=max&dpr=2&s=83177c831a32d4ccad5dfab7291e20fb","width":280},{"src":"https://i.guim.co.uk/img/media/e9ae7fe0d2276f88ed6c907ee9df5e7588d08d16/0_107_4933_2960/master/4933.jpg?width=120&quality=85&auto=format&fit=max&s=7c00c341bab46bb775185f680c1285f8″,"width":120},{"src":"https://i.guim.co.uk/img/media/e9ae7fe0d2276f88ed6c907ee9df5e7588d08d16/0_107_4933_2960/master/4933.jpg?width=120&quality=45&auto=format&fit=max&dpr=2&s=b45f088b318e3ead1988896a1cc930b8″,"width":240}]},{"weighting":"supporting","srcSet":[{"src":"https://i.guim.co.uk/img/media/e9ae7fe0d2276f88ed6c907ee9df5e7588d08d16/0_107_4933_2960/master/4933.jpg?width=380&quality=85&auto=format&fit=max&s=e8116279d619f510eadcf01ddd411fce","width":380},{"src":"https://i.guim.co.uk/img/media/e9ae7fe0d2276f88ed6c907ee9df5e7588d08d16/0_107_4933_2960/master/4933.jpg?width=380&quality=45&auto=format&fit=max&dpr=2&s=efb69361a03a911a61ab1c16ba1894ab","width":760},{"src":"https://i.guim.co.uk/img/media/e9ae7fe0d2276f88ed6c907ee9df5e7588d08d16/0_107_4933_2960/master/4933.jpg?width=300&quality=85&auto=format&fit=max&s=2a2a6381fd50990ab88435c9e2e2f2e1″,"width":300},{"src":"https://i.guim.co.uk/img/media/e9ae7fe0d2276f88ed6c907ee9df5e7588d08d16/0_107_4933_2960/master/4933.jpg?width=300&quality=45&auto=format&fit=max&dpr=2&s=288d22e2efc7edd28ff7499a4b3eec9b","width":600},{"src":"https://i.guim.co.uk/img/media/e9ae7fe0d2276f88ed6c907ee9df5e7588d08d16/0_107_4933_2960/master/4933.jpg?width=620&quality=85&auto=format&fit=max&s=fc35d43b674d24d579ef79caa592cbac","width":620},{"src":"https://i.guim.co.uk/img/media/e9ae7fe0d2276f88ed6c907ee9df5e7588d08d16/0_107_4933_2960/master/4933.jpg?width=620&quality=45&auto=format&fit=max&dpr=2&s=8378b534556ad7633c57720c89667e7a","width":1240},{"src":"https://i.guim.co.uk/img/media/e9ae7fe0d2276f88ed6c907ee9df5e7588d08d16/0_107_4933_2960/master/4933.jpg?width=605&quality=85&auto=format&fit=max&s=0a440b3efa507a3bd7bf3b503392a469″,"width":605},{"src":"https://i.guim.co.uk/img/media/e9ae7fe0d2276f88ed6c907ee9df5e7588d08d16/0_107_4933_2960/master/4933.jpg?width=605&quality=45&auto=format&fit=max&dpr=2&s=cca1072b3e5b9af33e9af8e7b5301a8e","width":1210},{"src":"https://i.guim.co.uk/img/media/e9ae7fe0d2276f88ed6c907ee9df5e7588d08d16/0_107_4933_2960/master/4933.jpg?width=445&quality=85&auto=format&fit=max&s=57e168d1d7ac75b832ef11c24ba36686″,"width":445},{"src":"https://i.guim.co.uk/img/media/e9ae7fe0d2276f88ed6c907ee9df5e7588d08d16/0_107_4933_2960/master/4933.jpg?width=445&quality=45&auto=format&fit=max&dpr=2&s=96864666d4b5eee8eb1f1564dc695e28″,"width":890}]},{"weighting":"showcase","srcSet":[{"src":"https://i.guim.co.uk/img/media/e9ae7fe0d2276f88ed6c907ee9df5e7588d08d16/0_107_4933_2960/master/4933.jpg?width=860&quality=85&auto=format&fit=max&s=69eca09653f4e06ed9c87a1e29cc259a","width":860},{"src":"https://i.guim.co.uk/img/media/e9ae7fe0d2276f88ed6c907ee9df5e7588d08d16/0_107_4933_2960/master/4933.jpg?width=860&quality=45&auto=format&fit=max&dpr=2&s=20fc213a90f182d43956fe094a76380b","width":1720},{"src":"https://i.guim.co.uk/img/media/e9ae7fe0d2276f88ed6c907ee9df5e7588d08d16/0_107_4933_2960/master/4933.jpg?width=780&quality=85&auto=format&fit=max&s=4ce4c3f84c33dd3d680b36f22050ff1e","width":780},{"src":"https://i.guim.co.uk/img/media/e9ae7fe0d2276f88ed6c907ee9df5e7588d08d16/0_107_4933_2960/master/4933.jpg?width=780&quality=45&auto=format&fit=max&dpr=2&s=19dd88cb070d8e0274f1bccbe43b84d6″,"width":1560},{"src":"https://i.guim.co.uk/img/media/e9ae7fe0d2276f88ed6c907ee9df5e7588d08d16/0_107_4933_2960/master/4933.jpg?width=620&quality=85&auto=format&fit=max&s=fc35d43b674d24d579ef79caa592cbac","width":620},{"src":"https://i.guim.co.uk/img/media/e9ae7fe0d2276f88ed6c907ee9df5e7588d08d16/0_107_4933_2960/master/4933.jpg?width=620&quality=45&auto=format&fit=max&dpr=2&s=8378b534556ad7633c57720c89667e7a","width":1240},{"src":"https://i.guim.co.uk/img/media/e9ae7fe0d2276f88ed6c907ee9df5e7588d08d16/0_107_4933_2960/master/4933.jpg?width=605&quality=85&auto=format&fit=max&s=0a440b3efa507a3bd7bf3b503392a469″,"width":605},{"src":"https://i.guim.co.uk/img/media/e9ae7fe0d2276f88ed6c907ee9df5e7588d08d16/0_107_4933_2960/master/4933.jpg?width=605&quality=45&auto=format&fit=max&dpr=2&s=cca1072b3e5b9af33e9af8e7b5301a8e","width":1210},{"src":"https://i.guim.co.uk/img/media/e9ae7fe0d2276f88ed6c907ee9df5e7588d08d16/0_107_4933_2960/master/4933.jpg?width=445&quality=85&auto=format&fit=max&s=57e168d1d7ac75b832ef11c24ba36686″,"width":445},{"src":"https://i.guim.co.uk/img/media/e9ae7fe0d2276f88ed6c907ee9df5e7588d08d16/0_107_4933_2960/master/4933.jpg?width=445&quality=45&auto=format&fit=max&dpr=2&s=96864666d4b5eee8eb1f1564dc695e28″,"width":890}]},{"weighting":"halfwidth","srcSet":[{"src":"https://i.guim.co.uk/img/media/e9ae7fe0d2276f88ed6c907ee9df5e7588d08d16/0_107_4933_2960/master/4933.jpg?width=620&quality=85&auto=format&fit=max&s=fc35d43b674d24d579ef79caa592cbac","width":620},{"src":"https://i.guim.co.uk/img/media/e9ae7fe0d2276f88ed6c907ee9df5e7588d08d16/0_107_4933_2960/master/4933.jpg?width=620&quality=45&auto=format&fit=max&dpr=2&s=8378b534556ad7633c57720c89667e7a","width":1240},{"src":"https://i.guim.co.uk/img/media/e9ae7fe0d2276f88ed6c907ee9df5e7588d08d16/0_107_4933_2960/master/4933.jpg?width=605&quality=85&auto=format&fit=max&s=0a440b3efa507a3bd7bf3b503392a469″,"width":605},{"src":"https://i.guim.co.uk/img/media/e9ae7fe0d2276f88ed6c907ee9df5e7588d08d16/0_107_4933_2960/master/4933.jpg?width=605&quality=45&auto=format&fit=max&dpr=2&s=cca1072b3e5b9af33e9af8e7b5301a8e","width":1210},{"src":"https://i.guim.co.uk/img/media/e9ae7fe0d2276f88ed6c907ee9df5e7588d08d16/0_107_4933_2960/master/4933.jpg?width=445&quality=85&auto=format&fit=max&s=57e168d1d7ac75b832ef11c24ba36686″,"width":445},{"src":"https://i.guim.co.uk/img/media/e9ae7fe0d2276f88ed6c907ee9df5e7588d08d16/0_107_4933_2960/master/4933.jpg?width=445&quality=45&auto=format&fit=max&dpr=2&s=96864666d4b5eee8eb1f1564dc695e28″,"width":890}]},{"weighting":"immersive","srcSet":[{"src":"https://i.guim.co.uk/img/media/e9ae7fe0d2276f88ed6c907ee9df5e7588d08d16/0_107_4933_2960/master/4933.jpg?width=1900&quality=85&auto=format&fit=max&s=873c4bfa8b04dbcf7a69e2dff54b6f1c","width":1900},{"src":"https://i.guim.co.uk/img/media/e9ae7fe0d2276f88ed6c907ee9df5e7588d08d16/0_107_4933_2960/master/4933.jpg?width=1900&quality=45&auto=format&fit=max&dpr=2&s=e860ba1786b34c6ab144cc15e3592252″,"width":3800},{"src":"https://i.guim.co.uk/img/media/e9ae7fe0d2276f88ed6c907ee9df5e7588d08d16/0_107_4933_2960/master/4933.jpg?width=1300&quality=85&auto=format&fit=max&s=c9a632eb59b3701d236627ba23f5fb8f","width":1300},{"src":"https://i.guim.co.uk/img/media/e9ae7fe0d2276f88ed6c907ee9df5e7588d08d16/0_107_4933_2960/master/4933.jpg?width=1300&quality=45&auto=format&fit=max&dpr=2&s=c4486367dc6927219a699f8e222083a6″,"width":2600},{"src":"https://i.guim.co.uk/img/media/e9ae7fe0d2276f88ed6c907ee9df5e7588d08d16/0_107_4933_2960/master/4933.jpg?width=1140&quality=85&auto=format&fit=max&s=24204e992598350f5f1d590424085a2e","width":1140},{"src":"https://i.guim.co.uk/img/media/e9ae7fe0d2276f88ed6c907ee9df5e7588d08d16/0_107_4933_2960/master/4933.jpg?width=1140&quality=45&auto=format&fit=max&dpr=2&s=12798ea306954960daeedeaa1be8c267″,"width":2280},{"src":"https://i.guim.co.uk/img/media/e9ae7fe0d2276f88ed6c907ee9df5e7588d08d16/0_107_4933_2960/master/4933.jpg?width=980&quality=85&auto=format&fit=max&s=41f8b2b502f7cef568fa847b882f026f","width":980},{"src":"https://i.guim.co.uk/img/media/e9ae7fe0d2276f88ed6c907ee9df5e7588d08d16/0_107_4933_2960/master/4933.jpg?width=980&quality=45&auto=format&fit=max&dpr=2&s=b60aaf545e2dc06a4161b4d8a65ac99b","width":1960},{"src":"https://i.guim.co.uk/img/media/e9ae7fe0d2276f88ed6c907ee9df5e7588d08d16/0_107_4933_2960/master/4933.jpg?width=740&quality=85&auto=format&fit=max&s=acbc12371e9d37bec6e7a384decad26c","width":740},{"src":"https://i.guim.co.uk/img/media/e9ae7fe0d2276f88ed6c907ee9df5e7588d08d16/0_107_4933_2960/master/4933.jpg?width=740&quality=45&auto=format&fit=max&dpr=2&s=384d2ce9c13c5c45316eb8091a5f5c72″,"width":1480},{"src":"https://i.guim.co.uk/img/media/e9ae7fe0d2276f88ed6c907ee9df5e7588d08d16/0_107_4933_2960/master/4933.jpg?width=660&quality=85&auto=format&fit=max&s=5166404684646e646fc8067061e5a794″,"width":660},{"src":"https://i.guim.co.uk/img/media/e9ae7fe0d2276f88ed6c907ee9df5e7588d08d16/0_107_4933_2960/master/4933.jpg?width=660&quality=45&auto=format&fit=max&dpr=2&s=4f4fc5a38b4de68cff3ec018f909b493″,"width":1320},{"src":"https://i.guim.co.uk/img/media/e9ae7fe0d2276f88ed6c907ee9df5e7588d08d16/0_107_4933_2960/master/4933.jpg?width=480&quality=85&auto=format&fit=max&s=1aa42723e634c404c9387fbdc02a5409″,"width":480},{"src":"https://i.guim.co.uk/img/media/e9ae7fe0d2276f88ed6c907ee9df5e7588d08d16/0_107_4933_2960/master/4933.jpg?width=480&quality=45&auto=format&fit=max&dpr=2&s=a82e052cf3eadece9b634197bfdd531b","width":960}]}],"elementId":"f023dda1-393b-4d0e-b2e7-5755768647a0″},{"_type":"mannequin.dotcomrendering.pageElements.ImageBlockElement","media":{"allImages":[{"index":0,"fields":{"height":"2365″,"width":"3942″},"mediaType":"Image","mimeType":"image/jpeg","url":"https://media.guim.co.uk/7bcc3ee12783a3ac166cfa8b25e7ef5a3b133c9e/0_195_3942_2365/3942.jpg"},{"index":1,"fields":{"isMaster":"true","height":"2365″,"width":"3942″},"mediaType":"Image","mimeType":"image/jpeg","url":"https://media.guim.co.uk/7bcc3ee12783a3ac166cfa8b25e7ef5a3b133c9e/0_195_3942_2365/master/3942.jpg"},{"index":2,"fields":{"height":"1200″,"width":"2000″},"mediaType":"Image","mimeType":"image/jpeg","url":"https://media.guim.co.uk/7bcc3ee12783a3ac166cfa8b25e7ef5a3b133c9e/0_195_3942_2365/2000.jpg"},{"index":3,"fields":{"height":"600″,"width":"1000″},"mediaType":"Image","mimeType":"image/jpeg","url":"https://media.guim.co.uk/7bcc3ee12783a3ac166cfa8b25e7ef5a3b133c9e/0_195_3942_2365/1000.jpg"},{"index":4,"fields":{"height":"300″,"width":"500″},"mediaType":"Image","mimeType":"image/jpeg","url":"https://media.guim.co.uk/7bcc3ee12783a3ac166cfa8b25e7ef5a3b133c9e/0_195_3942_2365/500.jpg"},{"index":5,"fields":{"height":"84″,"width":"140″},"mediaType":"Image","mimeType":"image/jpeg","url":"https://media.guim.co.uk/7bcc3ee12783a3ac166cfa8b25e7ef5a3b133c9e/0_195_3942_2365/140.jpg"}]},"knowledge":{"alt":"Dayot Upamecano of Bayern Munich scores the staff's first purpose previous Gregor Kobel of Borussia Dortmund.","caption":"Right here's the view from behind the purpose.","credit score":"{Photograph}: Lars Baron/Getty Pictures"},"displayCredit":true,"function":"inline","imageSources":[{"weighting":"inline","srcSet":[{"src":"https://i.guim.co.uk/img/media/7bcc3ee12783a3ac166cfa8b25e7ef5a3b133c9e/0_195_3942_2365/master/3942.jpg?width=620&quality=85&auto=format&fit=max&s=85ad95067ebab841174bd47c7d283b01″,"width":620},{"src":"https://i.guim.co.uk/img/media/7bcc3ee12783a3ac166cfa8b25e7ef5a3b133c9e/0_195_3942_2365/master/3942.jpg?width=620&quality=45&auto=format&fit=max&dpr=2&s=ab9437e92dd1463ed750cfa0866a2efa","width":1240},{"src":"https://i.guim.co.uk/img/media/7bcc3ee12783a3ac166cfa8b25e7ef5a3b133c9e/0_195_3942_2365/master/3942.jpg?width=605&quality=85&auto=format&fit=max&s=7620b5d98c567d35bc2374a07dc3f652″,"width":605},{"src":"https://i.guim.co.uk/img/media/7bcc3ee12783a3ac166cfa8b25e7ef5a3b133c9e/0_195_3942_2365/master/3942.jpg?width=605&quality=45&auto=format&fit=max&dpr=2&s=d3309dca0f65ac38da4430ecbdc8e1de","width":1210},{"src":"https://i.guim.co.uk/img/media/7bcc3ee12783a3ac166cfa8b25e7ef5a3b133c9e/0_195_3942_2365/master/3942.jpg?width=445&quality=85&auto=format&fit=max&s=253540881dd5f14a37fff6d110b4c86f","width":445},{"src":"https://i.guim.co.uk/img/media/7bcc3ee12783a3ac166cfa8b25e7ef5a3b133c9e/0_195_3942_2365/master/3942.jpg?width=445&quality=45&auto=format&fit=max&dpr=2&s=406d3b82432ff4cebabd210dbbfa47ba","width":890}]},{"weighting":"thumbnail","srcSet":[{"src":"https://i.guim.co.uk/img/media/7bcc3ee12783a3ac166cfa8b25e7ef5a3b133c9e/0_195_3942_2365/master/3942.jpg?width=140&quality=85&auto=format&fit=max&s=d158bd16636710b7b3612c8d368fd74b","width":140},{"src":"https://i.guim.co.uk/img/media/7bcc3ee12783a3ac166cfa8b25e7ef5a3b133c9e/0_195_3942_2365/master/3942.jpg?width=140&quality=45&auto=format&fit=max&dpr=2&s=91a1a7fd3cf51a78dde2ae2940817a44″,"width":280},{"src":"https://i.guim.co.uk/img/media/7bcc3ee12783a3ac166cfa8b25e7ef5a3b133c9e/0_195_3942_2365/master/3942.jpg?width=120&quality=85&auto=format&fit=max&s=dcbce65f2aaca2424d26771dab87f1eb","width":120},{"src":"https://i.guim.co.uk/img/media/7bcc3ee12783a3ac166cfa8b25e7ef5a3b133c9e/0_195_3942_2365/master/3942.jpg?width=120&quality=45&auto=format&fit=max&dpr=2&s=87acd79c2022a7ae094cde87b58a8dc2″,"width":240}]},{"weighting":"supporting","srcSet":[{"src":"https://i.guim.co.uk/img/media/7bcc3ee12783a3ac166cfa8b25e7ef5a3b133c9e/0_195_3942_2365/master/3942.jpg?width=380&quality=85&auto=format&fit=max&s=477599f535471bec387b59323ec32dde","width":380},{"src":"https://i.guim.co.uk/img/media/7bcc3ee12783a3ac166cfa8b25e7ef5a3b133c9e/0_195_3942_2365/master/3942.jpg?width=380&quality=45&auto=format&fit=max&dpr=2&s=d1780e2c4416b8063806ca3772abf29c","width":760},{"src":"https://i.guim.co.uk/img/media/7bcc3ee12783a3ac166cfa8b25e7ef5a3b133c9e/0_195_3942_2365/master/3942.jpg?width=300&quality=85&auto=format&fit=max&s=04e0741dbcfbc425e0f011e2a8b1ee1e","width":300},{"src":"https://i.guim.co.uk/img/media/7bcc3ee12783a3ac166cfa8b25e7ef5a3b133c9e/0_195_3942_2365/master/3942.jpg?width=300&quality=45&auto=format&fit=max&dpr=2&s=068ae98f67edb4d8728edbd92a705e26″,"width":600},{"src":"https://i.guim.co.uk/img/media/7bcc3ee12783a3ac166cfa8b25e7ef5a3b133c9e/0_195_3942_2365/master/3942.jpg?width=620&quality=85&auto=format&fit=max&s=85ad95067ebab841174bd47c7d283b01″,"width":620},{"src":"https://i.guim.co.uk/img/media/7bcc3ee12783a3ac166cfa8b25e7ef5a3b133c9e/0_195_3942_2365/master/3942.jpg?width=620&quality=45&auto=format&fit=max&dpr=2&s=ab9437e92dd1463ed750cfa0866a2efa","width":1240},{"src":"https://i.guim.co.uk/img/media/7bcc3ee12783a3ac166cfa8b25e7ef5a3b133c9e/0_195_3942_2365/master/3942.jpg?width=605&quality=85&auto=format&fit=max&s=7620b5d98c567d35bc2374a07dc3f652″,"width":605},{"src":"https://i.guim.co.uk/img/media/7bcc3ee12783a3ac166cfa8b25e7ef5a3b133c9e/0_195_3942_2365/master/3942.jpg?width=605&quality=45&auto=format&fit=max&dpr=2&s=d3309dca0f65ac38da4430ecbdc8e1de","width":1210},{"src":"https://i.guim.co.uk/img/media/7bcc3ee12783a3ac166cfa8b25e7ef5a3b133c9e/0_195_3942_2365/master/3942.jpg?width=445&quality=85&auto=format&fit=max&s=253540881dd5f14a37fff6d110b4c86f","width":445},{"src":"https://i.guim.co.uk/img/media/7bcc3ee12783a3ac166cfa8b25e7ef5a3b133c9e/0_195_3942_2365/master/3942.jpg?width=445&quality=45&auto=format&fit=max&dpr=2&s=406d3b82432ff4cebabd210dbbfa47ba","width":890}]},{"weighting":"showcase","srcSet":[{"src":"https://i.guim.co.uk/img/media/7bcc3ee12783a3ac166cfa8b25e7ef5a3b133c9e/0_195_3942_2365/master/3942.jpg?width=860&quality=85&auto=format&fit=max&s=ecc5398fe660838ff08205bb02380286″,"width":860},{"src":"https://i.guim.co.uk/img/media/7bcc3ee12783a3ac166cfa8b25e7ef5a3b133c9e/0_195_3942_2365/master/3942.jpg?width=860&quality=45&auto=format&fit=max&dpr=2&s=6bce229fbd9b8ce156b0beb7ebe44c5b","width":1720},{"src":"https://i.guim.co.uk/img/media/7bcc3ee12783a3ac166cfa8b25e7ef5a3b133c9e/0_195_3942_2365/master/3942.jpg?width=780&quality=85&auto=format&fit=max&s=c3fa9d114d517863dfbd23fc24e64393″,"width":780},{"src":"https://i.guim.co.uk/img/media/7bcc3ee12783a3ac166cfa8b25e7ef5a3b133c9e/0_195_3942_2365/master/3942.jpg?width=780&quality=45&auto=format&fit=max&dpr=2&s=78ea72998e21daed04a9d90432dccf3c","width":1560},{"src":"https://i.guim.co.uk/img/media/7bcc3ee12783a3ac166cfa8b25e7ef5a3b133c9e/0_195_3942_2365/master/3942.jpg?width=620&quality=85&auto=format&fit=max&s=85ad95067ebab841174bd47c7d283b01″,"width":620},{"src":"https://i.guim.co.uk/img/media/7bcc3ee12783a3ac166cfa8b25e7ef5a3b133c9e/0_195_3942_2365/master/3942.jpg?width=620&quality=45&auto=format&fit=max&dpr=2&s=ab9437e92dd1463ed750cfa0866a2efa","width":1240},{"src":"https://i.guim.co.uk/img/media/7bcc3ee12783a3ac166cfa8b25e7ef5a3b133c9e/0_195_3942_2365/master/3942.jpg?width=605&quality=85&auto=format&fit=max&s=7620b5d98c567d35bc2374a07dc3f652″,"width":605},{"src":"https://i.guim.co.uk/img/media/7bcc3ee12783a3ac166cfa8b25e7ef5a3b133c9e/0_195_3942_2365/master/3942.jpg?width=605&quality=45&auto=format&fit=max&dpr=2&s=d3309dca0f65ac38da4430ecbdc8e1de","width":1210},{"src":"https://i.guim.co.uk/img/media/7bcc3ee12783a3ac166cfa8b25e7ef5a3b133c9e/0_195_3942_2365/master/3942.jpg?width=445&quality=85&auto=format&fit=max&s=253540881dd5f14a37fff6d110b4c86f","width":445},{"src":"https://i.guim.co.uk/img/media/7bcc3ee12783a3ac166cfa8b25e7ef5a3b133c9e/0_195_3942_2365/master/3942.jpg?width=445&quality=45&auto=format&fit=max&dpr=2&s=406d3b82432ff4cebabd210dbbfa47ba","width":890}]},{"weighting":"halfwidth","srcSet":[{"src":"https://i.guim.co.uk/img/media/7bcc3ee12783a3ac166cfa8b25e7ef5a3b133c9e/0_195_3942_2365/master/3942.jpg?width=620&quality=85&auto=format&fit=max&s=85ad95067ebab841174bd47c7d283b01″,"width":620},{"src":"https://i.guim.co.uk/img/media/7bcc3ee12783a3ac166cfa8b25e7ef5a3b133c9e/0_195_3942_2365/master/3942.jpg?width=620&quality=45&auto=format&fit=max&dpr=2&s=ab9437e92dd1463ed750cfa0866a2efa","width":1240},{"src":"https://i.guim.co.uk/img/media/7bcc3ee12783a3ac166cfa8b25e7ef5a3b133c9e/0_195_3942_2365/master/3942.jpg?width=605&quality=85&auto=format&fit=max&s=7620b5d98c567d35bc2374a07dc3f652″,"width":605},{"src":"https://i.guim.co.uk/img/media/7bcc3ee12783a3ac166cfa8b25e7ef5a3b133c9e/0_195_3942_2365/master/3942.jpg?width=605&quality=45&auto=format&fit=max&dpr=2&s=d3309dca0f65ac38da4430ecbdc8e1de","width":1210},{"src":"https://i.guim.co.uk/img/media/7bcc3ee12783a3ac166cfa8b25e7ef5a3b133c9e/0_195_3942_2365/master/3942.jpg?width=445&quality=85&auto=format&fit=max&s=253540881dd5f14a37fff6d110b4c86f","width":445},{"src":"https://i.guim.co.uk/img/media/7bcc3ee12783a3ac166cfa8b25e7ef5a3b133c9e/0_195_3942_2365/master/3942.jpg?width=445&quality=45&auto=format&fit=max&dpr=2&s=406d3b82432ff4cebabd210dbbfa47ba","width":890}]},{"weighting":"immersive","srcSet":[{"src":"https://i.guim.co.uk/img/media/7bcc3ee12783a3ac166cfa8b25e7ef5a3b133c9e/0_195_3942_2365/master/3942.jpg?width=1900&quality=85&auto=format&fit=max&s=9b34221346c778a00d0b667d08ae4daa","width":1900},{"src":"https://i.guim.co.uk/img/media/7bcc3ee12783a3ac166cfa8b25e7ef5a3b133c9e/0_195_3942_2365/master/3942.jpg?width=1900&quality=45&auto=format&fit=max&dpr=2&s=e77adc4d2f0ffeac66d2c94d779d0175″,"width":3800},{"src":"https://i.guim.co.uk/img/media/7bcc3ee12783a3ac166cfa8b25e7ef5a3b133c9e/0_195_3942_2365/master/3942.jpg?width=1300&quality=85&auto=format&fit=max&s=e3094bbdc6273190110e5522c6a8ed49″,"width":1300},{"src":"https://i.guim.co.uk/img/media/7bcc3ee12783a3ac166cfa8b25e7ef5a3b133c9e/0_195_3942_2365/master/3942.jpg?width=1300&quality=45&auto=format&fit=max&dpr=2&s=b981f602cb74c8dfc64b91b089111af2″,"width":2600},{"src":"https://i.guim.co.uk/img/media/7bcc3ee12783a3ac166cfa8b25e7ef5a3b133c9e/0_195_3942_2365/master/3942.jpg?width=1140&quality=85&auto=format&fit=max&s=899831b8f95bfb7be9b9713062a5f9dc","width":1140},{"src":"https://i.guim.co.uk/img/media/7bcc3ee12783a3ac166cfa8b25e7ef5a3b133c9e/0_195_3942_2365/master/3942.jpg?width=1140&quality=45&auto=format&fit=max&dpr=2&s=2dd785aadd051258b379ade3311fb238″,"width":2280},{"src":"https://i.guim.co.uk/img/media/7bcc3ee12783a3ac166cfa8b25e7ef5a3b133c9e/0_195_3942_2365/master/3942.jpg?width=980&quality=85&auto=format&fit=max&s=2240b03e31596ca9a7e6ec2451f8d627″,"width":980},{"src":"https://i.guim.co.uk/img/media/7bcc3ee12783a3ac166cfa8b25e7ef5a3b133c9e/0_195_3942_2365/master/3942.jpg?width=980&quality=45&auto=format&fit=max&dpr=2&s=fd36cdb3871b79585f3dccc787e6dddb","width":1960},{"src":"https://i.guim.co.uk/img/media/7bcc3ee12783a3ac166cfa8b25e7ef5a3b133c9e/0_195_3942_2365/master/3942.jpg?width=740&quality=85&auto=format&fit=max&s=dbb403ff5e9a23ea3a124f13845a82cf","width":740},{"src":"https://i.guim.co.uk/img/media/7bcc3ee12783a3ac166cfa8b25e7ef5a3b133c9e/0_195_3942_2365/master/3942.jpg?width=740&quality=45&auto=format&fit=max&dpr=2&s=d86f5b53a3711cea3cb17902ff57bcc2″,"width":1480},{"src":"https://i.guim.co.uk/img/media/7bcc3ee12783a3ac166cfa8b25e7ef5a3b133c9e/0_195_3942_2365/master/3942.jpg?width=660&quality=85&auto=format&fit=max&s=3dbba5572a07b58ffb41213c2eba37c2″,"width":660},{"src":"https://i.guim.co.uk/img/media/7bcc3ee12783a3ac166cfa8b25e7ef5a3b133c9e/0_195_3942_2365/master/3942.jpg?width=660&quality=45&auto=format&fit=max&dpr=2&s=759198baf106d09cb0949546760d014f","width":1320},{"src":"https://i.guim.co.uk/img/media/7bcc3ee12783a3ac166cfa8b25e7ef5a3b133c9e/0_195_3942_2365/master/3942.jpg?width=480&quality=85&auto=format&fit=max&s=4cc23a1d816440569f7e9f0cd0b90287″,"width":480},{"src":"https://i.guim.co.uk/img/media/7bcc3ee12783a3ac166cfa8b25e7ef5a3b133c9e/0_195_3942_2365/master/3942.jpg?width=480&quality=45&auto=format&fit=max&dpr=2&s=46b92c5a4838c8844397267b08e168f3″,"width":960}]}],"elementId":"23ab9885-9e00-46f2-8e27-45db4c51cd4b"},{"_type":"mannequin.dotcomrendering.pageElements.ImageBlockElement","media":{"allImages":[{"index":0,"fields":{"height":"2999″,"width":"4998″},"mediaType":"Image","mimeType":"image/jpeg","url":"https://media.guim.co.uk/405da729dd67544c58f1e300b3731ab7123bf246/0_167_4998_2999/4998.jpg"},{"index":1,"fields":{"isMaster":"true","height":"2999″,"width":"4998″},"mediaType":"Image","mimeType":"image/jpeg","url":"https://media.guim.co.uk/405da729dd67544c58f1e300b3731ab7123bf246/0_167_4998_2999/master/4998.jpg"},{"index":2,"fields":{"height":"1200″,"width":"2000″},"mediaType":"Image","mimeType":"image/jpeg","url":"https://media.guim.co.uk/405da729dd67544c58f1e300b3731ab7123bf246/0_167_4998_2999/2000.jpg"},{"index":3,"fields":{"height":"600″,"width":"1000″},"mediaType":"Image","mimeType":"image/jpeg","url":"https://media.guim.co.uk/405da729dd67544c58f1e300b3731ab7123bf246/0_167_4998_2999/1000.jpg"},{"index":4,"fields":{"height":"300″,"width":"500″},"mediaType":"Image","mimeType":"image/jpeg","url":"https://media.guim.co.uk/405da729dd67544c58f1e300b3731ab7123bf246/0_167_4998_2999/500.jpg"},{"index":5,"fields":{"height":"84″,"width":"140″},"mediaType":"Image","mimeType":"image/jpeg","url":"https://media.guim.co.uk/405da729dd67544c58f1e300b3731ab7123bf246/0_167_4998_2999/140.jpg"}]},"knowledge":{"alt":"Dayot Upamecano of Bayern Munich celebrates after scoring his staff's first purpose towards Borussia Dortmund.","caption":"Upamecano celebrates giving Bayern Munich a really early lead.","credit score":"{Photograph}: Edith Geuppert/GES Sportfoto/Getty Pictures"},"displayCredit":true,"function":"inline","imageSources":[{"weighting":"inline","srcSet":[{"src":"https://i.guim.co.uk/img/media/405da729dd67544c58f1e300b3731ab7123bf246/0_167_4998_2999/master/4998.jpg?width=620&quality=85&auto=format&fit=max&s=5c17b2b3fbb2810e6bb4900461163ad1″,"width":620},{"src":"https://i.guim.co.uk/img/media/405da729dd67544c58f1e300b3731ab7123bf246/0_167_4998_2999/master/4998.jpg?width=620&quality=45&auto=format&fit=max&dpr=2&s=c7d95061a0676e093b88d2836ddc5de8″,"width":1240},{"src":"https://i.guim.co.uk/img/media/405da729dd67544c58f1e300b3731ab7123bf246/0_167_4998_2999/master/4998.jpg?width=605&quality=85&auto=format&fit=max&s=93331d1355979a7f8d7cba3e163c74c3″,"width":605},{"src":"https://i.guim.co.uk/img/media/405da729dd67544c58f1e300b3731ab7123bf246/0_167_4998_2999/master/4998.jpg?width=605&quality=45&auto=format&fit=max&dpr=2&s=29e15e60cfc83e0717aaaaa4ddcafc69″,"width":1210},{"src":"https://i.guim.co.uk/img/media/405da729dd67544c58f1e300b3731ab7123bf246/0_167_4998_2999/master/4998.jpg?width=445&quality=85&auto=format&fit=max&s=df65cad3c1b92eef15e2e71730c57a32″,"width":445},{"src":"https://i.guim.co.uk/img/media/405da729dd67544c58f1e300b3731ab7123bf246/0_167_4998_2999/master/4998.jpg?width=445&quality=45&auto=format&fit=max&dpr=2&s=822636bbb731e64fa27fc198aa8bdf14″,"width":890}]},{"weighting":"thumbnail","srcSet":[{"src":"https://i.guim.co.uk/img/media/405da729dd67544c58f1e300b3731ab7123bf246/0_167_4998_2999/master/4998.jpg?width=140&quality=85&auto=format&fit=max&s=b749c3e506a1c158a253a8f26830fbd7″,"width":140},{"src":"https://i.guim.co.uk/img/media/405da729dd67544c58f1e300b3731ab7123bf246/0_167_4998_2999/master/4998.jpg?width=140&quality=45&auto=format&fit=max&dpr=2&s=c7facf632e94c748e3278d6681c2a600″,"width":280},{"src":"https://i.guim.co.uk/img/media/405da729dd67544c58f1e300b3731ab7123bf246/0_167_4998_2999/master/4998.jpg?width=120&quality=85&auto=format&fit=max&s=68e8a9d130264ad208ef853f00eb133f","width":120},{"src":"https://i.guim.co.uk/img/media/405da729dd67544c58f1e300b3731ab7123bf246/0_167_4998_2999/master/4998.jpg?width=120&quality=45&auto=format&fit=max&dpr=2&s=3dff9cc0f526aaf7843038726d678eb4″,"width":240}]},{"weighting":"supporting","srcSet":[{"src":"https://i.guim.co.uk/img/media/405da729dd67544c58f1e300b3731ab7123bf246/0_167_4998_2999/master/4998.jpg?width=380&quality=85&auto=format&fit=max&s=716432b15907ad4ad9d6fee04f75752e","width":380},{"src":"https://i.guim.co.uk/img/media/405da729dd67544c58f1e300b3731ab7123bf246/0_167_4998_2999/master/4998.jpg?width=380&quality=45&auto=format&fit=max&dpr=2&s=2bb63a8da783e27631914efc01e6f2f4″,"width":760},{"src":"https://i.guim.co.uk/img/media/405da729dd67544c58f1e300b3731ab7123bf246/0_167_4998_2999/master/4998.jpg?width=300&quality=85&auto=format&fit=max&s=44da2171a1260c34a093fcef8a54b0c1″,"width":300},{"src":"https://i.guim.co.uk/img/media/405da729dd67544c58f1e300b3731ab7123bf246/0_167_4998_2999/master/4998.jpg?width=300&quality=45&auto=format&fit=max&dpr=2&s=ba0dc398ad609aa8694c800b89869405″,"width":600},{"src":"https://i.guim.co.uk/img/media/405da729dd67544c58f1e300b3731ab7123bf246/0_167_4998_2999/master/4998.jpg?width=620&quality=85&auto=format&fit=max&s=5c17b2b3fbb2810e6bb4900461163ad1″,"width":620},{"src":"https://i.guim.co.uk/img/media/405da729dd67544c58f1e300b3731ab7123bf246/0_167_4998_2999/master/4998.jpg?width=620&quality=45&auto=format&fit=max&dpr=2&s=c7d95061a0676e093b88d2836ddc5de8″,"width":1240},{"src":"https://i.guim.co.uk/img/media/405da729dd67544c58f1e300b3731ab7123bf246/0_167_4998_2999/master/4998.jpg?width=605&quality=85&auto=format&fit=max&s=93331d1355979a7f8d7cba3e163c74c3″,"width":605},{"src":"https://i.guim.co.uk/img/media/405da729dd67544c58f1e300b3731ab7123bf246/0_167_4998_2999/master/4998.jpg?width=605&quality=45&auto=format&fit=max&dpr=2&s=29e15e60cfc83e0717aaaaa4ddcafc69″,"width":1210},{"src":"https://i.guim.co.uk/img/media/405da729dd67544c58f1e300b3731ab7123bf246/0_167_4998_2999/master/4998.jpg?width=445&quality=85&auto=format&fit=max&s=df65cad3c1b92eef15e2e71730c57a32″,"width":445},{"src":"https://i.guim.co.uk/img/media/405da729dd67544c58f1e300b3731ab7123bf246/0_167_4998_2999/master/4998.jpg?width=445&quality=45&auto=format&fit=max&dpr=2&s=822636bbb731e64fa27fc198aa8bdf14″,"width":890}]},{"weighting":"showcase","srcSet":[{"src":"https://i.guim.co.uk/img/media/405da729dd67544c58f1e300b3731ab7123bf246/0_167_4998_2999/master/4998.jpg?width=860&quality=85&auto=format&fit=max&s=a3fb52bc07e790a7ea06a28db3a5b0df","width":860},{"src":"https://i.guim.co.uk/img/media/405da729dd67544c58f1e300b3731ab7123bf246/0_167_4998_2999/master/4998.jpg?width=860&quality=45&auto=format&fit=max&dpr=2&s=c7c405fe5d41ba4f31532239eae66d5d","width":1720},{"src":"https://i.guim.co.uk/img/media/405da729dd67544c58f1e300b3731ab7123bf246/0_167_4998_2999/master/4998.jpg?width=780&quality=85&auto=format&fit=max&s=a47f1b9280b0d12db41dd1ba063b6b88″,"width":780},{"src":"https://i.guim.co.uk/img/media/405da729dd67544c58f1e300b3731ab7123bf246/0_167_4998_2999/master/4998.jpg?width=780&quality=45&auto=format&fit=max&dpr=2&s=7d2a0f8e377aa4781c25172acec69810″,"width":1560},{"src":"https://i.guim.co.uk/img/media/405da729dd67544c58f1e300b3731ab7123bf246/0_167_4998_2999/master/4998.jpg?width=620&quality=85&auto=format&fit=max&s=5c17b2b3fbb2810e6bb4900461163ad1″,"width":620},{"src":"https://i.guim.co.uk/img/media/405da729dd67544c58f1e300b3731ab7123bf246/0_167_4998_2999/master/4998.jpg?width=620&quality=45&auto=format&fit=max&dpr=2&s=c7d95061a0676e093b88d2836ddc5de8″,"width":1240},{"src":"https://i.guim.co.uk/img/media/405da729dd67544c58f1e300b3731ab7123bf246/0_167_4998_2999/master/4998.jpg?width=605&quality=85&auto=format&fit=max&s=93331d1355979a7f8d7cba3e163c74c3″,"width":605},{"src":"https://i.guim.co.uk/img/media/405da729dd67544c58f1e300b3731ab7123bf246/0_167_4998_2999/master/4998.jpg?width=605&quality=45&auto=format&fit=max&dpr=2&s=29e15e60cfc83e0717aaaaa4ddcafc69″,"width":1210},{"src":"https://i.guim.co.uk/img/media/405da729dd67544c58f1e300b3731ab7123bf246/0_167_4998_2999/master/4998.jpg?width=445&quality=85&auto=format&fit=max&s=df65cad3c1b92eef15e2e71730c57a32″,"width":445},{"src":"https://i.guim.co.uk/img/media/405da729dd67544c58f1e300b3731ab7123bf246/0_167_4998_2999/master/4998.jpg?width=445&quality=45&auto=format&fit=max&dpr=2&s=822636bbb731e64fa27fc198aa8bdf14″,"width":890}]},{"weighting":"halfwidth","srcSet":[{"src":"https://i.guim.co.uk/img/media/405da729dd67544c58f1e300b3731ab7123bf246/0_167_4998_2999/master/4998.jpg?width=620&quality=85&auto=format&fit=max&s=5c17b2b3fbb2810e6bb4900461163ad1″,"width":620},{"src":"https://i.guim.co.uk/img/media/405da729dd67544c58f1e300b3731ab7123bf246/0_167_4998_2999/master/4998.jpg?width=620&quality=45&auto=format&fit=max&dpr=2&s=c7d95061a0676e093b88d2836ddc5de8″,"width":1240},{"src":"https://i.guim.co.uk/img/media/405da729dd67544c58f1e300b3731ab7123bf246/0_167_4998_2999/master/4998.jpg?width=605&quality=85&auto=format&fit=max&s=93331d1355979a7f8d7cba3e163c74c3″,"width":605},{"src":"https://i.guim.co.uk/img/media/405da729dd67544c58f1e300b3731ab7123bf246/0_167_4998_2999/master/4998.jpg?width=605&quality=45&auto=format&fit=max&dpr=2&s=29e15e60cfc83e0717aaaaa4ddcafc69″,"width":1210},{"src":"https://i.guim.co.uk/img/media/405da729dd67544c58f1e300b3731ab7123bf246/0_167_4998_2999/master/4998.jpg?width=445&quality=85&auto=format&fit=max&s=df65cad3c1b92eef15e2e71730c57a32″,"width":445},{"src":"https://i.guim.co.uk/img/media/405da729dd67544c58f1e300b3731ab7123bf246/0_167_4998_2999/master/4998.jpg?width=445&quality=45&auto=format&fit=max&dpr=2&s=822636bbb731e64fa27fc198aa8bdf14″,"width":890}]},{"weighting":"immersive","srcSet":[{"src":"https://i.guim.co.uk/img/media/405da729dd67544c58f1e300b3731ab7123bf246/0_167_4998_2999/master/4998.jpg?width=1900&quality=85&auto=format&fit=max&s=acbeb0315573dfa8b42566e9dddbf8a5″,"width":1900},{"src":"https://i.guim.co.uk/img/media/405da729dd67544c58f1e300b3731ab7123bf246/0_167_4998_2999/master/4998.jpg?width=1900&quality=45&auto=format&fit=max&dpr=2&s=5f875d2d21d45906c185eb459ca891da","width":3800},{"src":"https://i.guim.co.uk/img/media/405da729dd67544c58f1e300b3731ab7123bf246/0_167_4998_2999/master/4998.jpg?width=1300&quality=85&auto=format&fit=max&s=1ce76ac1cd849948a37da3f85f5e582b","width":1300},{"src":"https://i.guim.co.uk/img/media/405da729dd67544c58f1e300b3731ab7123bf246/0_167_4998_2999/master/4998.jpg?width=1300&quality=45&auto=format&fit=max&dpr=2&s=b409b39e8d07e0da6f7ab1ca8679dec2″,"width":2600},{"src":"https://i.guim.co.uk/img/media/405da729dd67544c58f1e300b3731ab7123bf246/0_167_4998_2999/master/4998.jpg?width=1140&quality=85&auto=format&fit=max&s=4135da21f305e27684b624b015a4e92b","width":1140},{"src":"https://i.guim.co.uk/img/media/405da729dd67544c58f1e300b3731ab7123bf246/0_167_4998_2999/master/4998.jpg?width=1140&quality=45&auto=format&fit=max&dpr=2&s=004a15c09198242526560df2a7bd415c","width":2280},{"src":"https://i.guim.co.uk/img/media/405da729dd67544c58f1e300b3731ab7123bf246/0_167_4998_2999/master/4998.jpg?width=980&quality=85&auto=format&fit=max&s=67eb484abc3f0ffda164bf0cc2a10df9″,"width":980},{"src":"https://i.guim.co.uk/img/media/405da729dd67544c58f1e300b3731ab7123bf246/0_167_4998_2999/master/4998.jpg?width=980&quality=45&auto=format&fit=max&dpr=2&s=d9a1a680d521239b65f5b545e9c42c55″,"width":1960},{"src":"https://i.guim.co.uk/img/media/405da729dd67544c58f1e300b3731ab7123bf246/0_167_4998_2999/master/4998.jpg?width=740&quality=85&auto=format&fit=max&s=8d69a88bd7e254c4ac543b487b1c40eb","width":740},{"src":"https://i.guim.co.uk/img/media/405da729dd67544c58f1e300b3731ab7123bf246/0_167_4998_2999/master/4998.jpg?width=740&quality=45&auto=format&fit=max&dpr=2&s=a58192837fab1740eb5df817168042bc","width":1480},{"src":"https://i.guim.co.uk/img/media/405da729dd67544c58f1e300b3731ab7123bf246/0_167_4998_2999/master/4998.jpg?width=660&quality=85&auto=format&fit=max&s=cac5db9c4f2d956480a0ad91e2e2e19a","width":660},{"src":"https://i.guim.co.uk/img/media/405da729dd67544c58f1e300b3731ab7123bf246/0_167_4998_2999/master/4998.jpg?width=660&quality=45&auto=format&fit=max&dpr=2&s=327a442b26065d96e35e97e193b79ea6″,"width":1320},{"src":"https://i.guim.co.uk/img/media/405da729dd67544c58f1e300b3731ab7123bf246/0_167_4998_2999/master/4998.jpg?width=480&quality=85&auto=format&fit=max&s=e4af62b8c7362604980692742ec6383c","width":480},{"src":"https://i.guim.co.uk/img/media/405da729dd67544c58f1e300b3731ab7123bf246/0_167_4998_2999/master/4998.jpg?width=480&quality=45&auto=format&fit=max&dpr=2&s=23ae1a5d9da743453db4b4d98fafee6d","width":960}]}],"elementId":"3563481d-d647-442a-9685-877a33afec56″}],"attributes":{"pinned":false,"keyEvent":true,"abstract":false},"blockCreatedOn":1699119232000,"blockCreatedOnDisplay":"13.33 EDT","blockLastUpdated":1699127217000,"blockLastUpdatedDisplay":"15.46 EDT","blockFirstPublished":1699119260000,"blockFirstPublishedDisplay":"13.34 EDT","blockFirstPublishedDisplayNoTimezone":"13.34″,"title":"GOAL! Dortmund 0-1 Bayern (Upamecano 4)","contributors":[],"primaryDateLine":"Sat 4 Nov 2023 15.47 EDT","secondaryDateLine":"First printed on Sat 4 Nov 2023 12.41 EDT"},{"id":"65467f308f08d1827a66c271″,"components":[{"_type":"model.dotcomrendering.pageElements.TextBlockElement","html":"

Dortmund in black and yellow, Bayern in red and white. Harry Kane kicks off!

","elementId":"de19910d-08ed-4701-8f45-5f9c4dbd5d9f"}],"attributes":{"pinned":false,"keyEvent":true,"abstract":false},"blockCreatedOn":1699118896000,"blockCreatedOnDisplay":"13.28 EDT","blockLastUpdated":1699119059000,"blockLastUpdatedDisplay":"13.30 EDT","blockFirstPublished":1699119059000,"blockFirstPublishedDisplay":"13.30 EDT","blockFirstPublishedDisplayNoTimezone":"13.30″,"title":"Let's play!","contributors":[],"primaryDateLine":"Sat 4 Nov 2023 15.47 EDT","secondaryDateLine":"First printed on Sat 4 Nov 2023 12.41 EDT"},{"id":"654675308f08af73b5ca88b8″,"components":[{"_type":"model.dotcomrendering.pageElements.TextBlockElement","html":"

So Upamecano and Goretzka, who were injury concerns for Bayern, are in the XI. Here's how it's looking:

","elementId":"a6147dab-76d7-408a-920a-e0c7254a8b78″},{"_type":"model.dotcomrendering.pageElements.TextBlockElement","html":"

Dortmund: Kobel, Ryerson, Schlotterbeck, Hummels, Wolf, Özcan, Sabitzer, Reus, Brandt, Malen, Füllkrug

","elementId":"444a9ecc-dd6a-4d81-beea-7eac50ad76c6″},{"_type":"model.dotcomrendering.pageElements.TextBlockElement","html":"

Subs: Meyer, Bensebaini, Reyna, Nmecha, Haller, Moukoko, Süle, Adeyemi, Bynoe-Gittens

","elementId":"7cd76752-67a3-40d1-a3b2-366bb815d68b"},{"_type":"model.dotcomrendering.pageElements.TextBlockElement","html":"

Bayern: Neuer, Mazraoui, Upamecano, Min-jae, Davies, Goretzka, Laimer, Sané, Coman, Musiala, Kane

","elementId":"5ba9e0ba-fde1-4a7a-9497-9555e2dd8b0c"},{"_type":"model.dotcomrendering.pageElements.TextBlockElement","html":"

Subs: Ulreich, Gnabry, Choupo-Moting, Sarr, Müller, Tel, Krätzig, Pavlović

","elementId":"1ed55bce-fe4d-467d-a160-e5d97bb1e5c0″}],"attributes":{"pinned":false,"keyEvent":true,"abstract":false},"blockCreatedOn":1699116336000,"blockCreatedOnDisplay":"12.45 EDT","blockLastUpdated":1699116846000,"blockLastUpdatedDisplay":"12.54 EDT","blockFirstPublished":1699116846000,"blockFirstPublishedDisplay":"12.54 EDT","blockFirstPublishedDisplayNoTimezone":"12.54″,"title":"The groups","contributors":[],"primaryDateLine":"Sat 4 Nov 2023 15.47 EDT","secondaryDateLine":"First printed on Sat 4 Nov 2023 12.41 EDT"},{"id":"6543b9508f08d1827a66a8d6″,"components":[{"_type":"model.dotcomrendering.pageElements.TextBlockElement","html":"

Hello, hello, hello and welcome to coverage of the big one in Germany: Borussia Dortmund against Bayern Munich at Signal Iduna Park.

","elementId":"d5bf2f1d-0bd5-449e-9767-8c1653258d69″},{"_type":"model.dotcomrendering.pageElements.TextBlockElement","html":"

The eyes are on Harry Kane, who seems to be loving life at his new club. Thirteen games have resulted in 14 goals, including his best Becks impression in an 8-0 drubbing last weekend. Bayern remain unbeaten in the league, have a 100% record in the Champions League and Kane's at the helm for their run at a 12th consecutive Bundesliga title. Oh, and they haven't lost to these since 2019.

","elementId":"a5c61ffc-67e5-4753-87f2-d18379012b73″},{"_type":"model.dotcomrendering.pageElements.TextBlockElement","html":"

But – yes, there's a but – Dortmund are very much in this. They too are unbeaten after nine league games, and they'll be buoyed by the upset Bayern suffered in the week, a 2-1 loss to third-division Saarbrücken in the German Cup. Then there are the names Bayern are missing: Joshua Kimmich is suspended, Matthijs de Ligt is definitely out with injury, and there are concerns over Dayot Upamecano and Leon Goetzka, too. Basically, we're on for a classic (don't hold me to that).

","elementId":"f1957948-4efa-4a18-bd21-eb4ac5de3644″},{"_type":"model.dotcomrendering.pageElements.TextBlockElement","html":"

I'll be here with you all the way, with kick-off at 5.30pm GMT. Drop me a line with your thoughts, queries, whatever, whenever. Cheers!

","elementId":"7b16755e-1c4e-44ea-80db-9bbc6751170b"}],"attributes":{"pinned":false,"keyEvent":true,"abstract":false},"blockCreatedOn":1699116085000,"blockCreatedOnDisplay":"12.41 EDT","blockLastUpdated":1699103808000,"blockLastUpdatedDisplay":"09.16 EDT","blockFirstPublished":1699116085000,"blockFirstPublishedDisplay":"12.41 EDT","blockFirstPublishedDisplayNoTimezone":"12.41″,"title":"Preamble","contributors":[],"primaryDateLine":"Sat 4 Nov 2023 15.47 EDT","secondaryDateLine":"First printed on Sat 4 Nov 2023 12.41 EDT"}],"filterKeyEvents":false,"format":{"show":0,"theme":2,"design":12},"id":"key-events-carousel-mobile"}" config="{"renderingTarget":"Net","darkModeAvailable":false}">

Key occasions
In order that's that – Bayern roll on and keep unbeaten within the league, although Leverkusen stay high after their 3-2 win over Hoffenheim earlier at this time. This has been enjoyable, see ya!
Information from elsewhere: Newcastle have turned over Arsenal.
A hat-trick final Saturday, one other one at this time. Kane's received 17 targets in 14 video games for Bayern now. Three hat-tricks in whole for his new membership. Primary level: foolish numbers.
"The Bayern package is an fascinating mixture of colors, harking back to strawberries and cream," writes Peter Oh. "Their Englishman has been so easy that they oughta name it 'Strawberries and Kane'."
FULL TIME: Dortmund 0-4 Bayern
Domination from Bayern and Harry Kane. The hosts simply by no means seemed as in the event that they had been within the sport, conceding within the fourth minute to an Upamecano header. After which Kane took over, the Englishman demonstrating his substantial chemistry with the three pleasant gamers behind him: Sané, Musiala and Coman. This was meant to be Dortmund's likelihood to alter the course of this rivalry; as a substitute, they've been brushed apart with ease.
GOAL! Dortmund 0-4 Bayern (Kane 90 + 3)
No manner. Pavlović wins the ball within the center, slots in Kane, who's one on one and slots in himself. He's received one other hat-trick, his third for Bayern this season. It's November.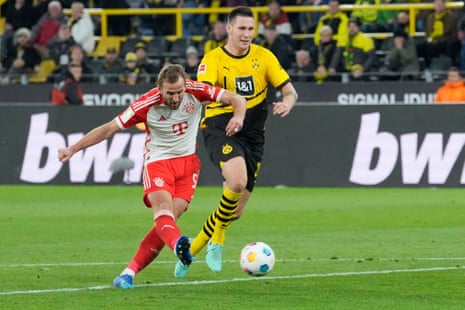 90 + 2 min: Müller curled in a ball to Kane, whose first contact with the chest was too heavy as he charged into the field.
90 min: Adeyemi reveals off his fast ft once more on the proper, however Bayern shirts encompass him and brush him away.
89 min: Müller and Choupo-Moting come on for Bayern. Musiala and Sané, each terrific at this time, come off.
87 min: Dortmund immediately look slick within the field, and the ball finds Moukoko within the center however he blasts excessive from shut vary.
86 min: Sabitzer has a pop, however it goes over.
85 min: Adeyemi jinks away on the right-hand facet for Dortmund and wins a free-kick from capturing vary.
84 min: Bayern are enjoying triangles within the Dortmund half.
83 min: Sané tries to string via a ball to Musiala, however it's blocked away.
81 min: Nook for Dortmund, however it poses few issues.
80 min: Kane wins the ball deep in his personal half and wins the foul, too, pushed down by Haller.
78 min: Coman, Musiala and Sané drive ahead, which is nightmarish in case you're a defender, however the shot is blocked.
77 min: Reus tussles for the ball and is surrounded by three Bayern gamers, which sums it up.
76 min: Dortmund should go once more, however this sport could be very a lot carried out – and Bayern might land just a few extra blows on the counter. Musiala launches ahead and is taken down by Sabitzer, who will get a yellow.
GOAL! Dortmund 0-3 Bayern (Kane 72)
One other one! Coman finds area on the proper wing and performs the right low cross to Kane, who takes a contact after which slots into the underside left nook as Kobel dives the opposite manner. Can he get his third hat-trick of the season?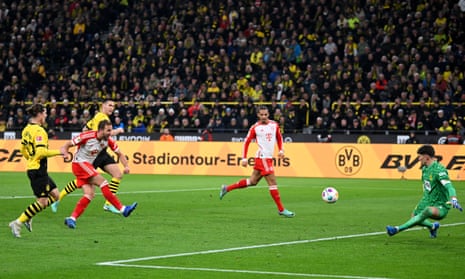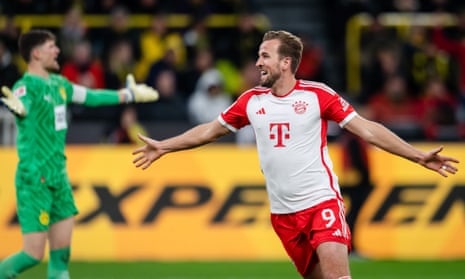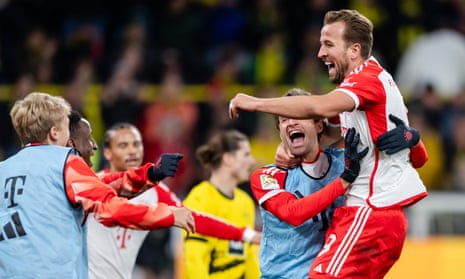 71 min: Yep, offside.
70 min: Bayern assume they've their third… however it's dominated offside. Laimer chips a via ball to Kane, who squares it for Musiala to fit in. However Kane seems to be off…
68 min: The ball is headed clear – no dramas for Bayern.
67 min: Bayern are simply holding their form, with Dortmund now seeing extra of the ball. Nmecha has a shot and it's deflected out for a nook.
66 min: Adeyemi's on for Dortmund by the way in which, and he's wanting vigorous on the proper for the lads in yellow.
64 min: Dortmund assault down the right-hand facet however Bayern break on the counter and Kane finds Coman, who performs in Musiala… however Kobel saves the day once more with a powerful save.
60 min: Hummels will get a yellow for a nasty wanting problem on Kane. Shin pads to the rescue there.
59 min: Min-jae heads away a nice-looking cross into the field. Upamecano comes off for Bayern – which perhaps means he's nonetheless struggling together with his harm.
58 min: Now it's Kobel's flip to make a high save. He retains out Sané with a dive to his proper and, sure, we will now name this an end-to-end sport.
56 min: Cracking save from Neuer! Reus brilliantly took down a protracted ball from Hummels within the field, and performed a one-two with Füllkrug earlier than firing in his shot. Neuer moved to his left to dam it.
55 min: Schlotterbeck steps on the foot of Laimer – free kick for Bayern in their very own half.
54 min: Bayern counter from the nook and Davies crosses in from the left, however it's deflected and Dortmund see off the hazard.
53 min: Schlotterbeck will get the ball out of his ft to try to drive the ball in low from vary – it comes off Upamecano for a nook.
52 min: Sané wins it urgent excessive up the pitch however can't ship a killer ball.
51 min: Malen and Süle go it forwards and backwards on the proper for Dortmund because the hosts lastly begin to transfer the ball round a bit extra tidily.
48 min: Bayern do put the ball into the online, however the flag's gone up.
47 min: It's pinball within the field as Bayern pepper the purpose. A 3rd already feels inevitable.
46 min: And it's almost three… Kane performs Musiala via and it's one-on-one with the keeper, however out comes a giant save from Kobel. Nook.
The second half begins!
"Bayern 8 out of 10 occasions are a half step faster to go or make a block or recuperate a misplaced ball," writes Gene Salorio. "Not about managers or programs, one staff merely has barely higher to significantly better gamers."
Alright, are Dortmund gonna pull off one thing particular right here? Probs not. However they're gonna change issues up – Niklas Süle is approaching for Marius Wolf.
I forgot to present Sané his dues for the nook into Upamecano – it was a pleasant ball in, on the spot and with tempo. Simply wanted a contact on it and it was at all times getting into.
HALF-TIME: Dortmund 0-2 Bayern
Bayern had been 2-0 up after simply 9 minutes, with Kane and Upamecano the goalscorers. Dortmund merely haven't turned up but, with the guests dominating possession and looking out fairly horrifying on the counter. Musiala, Sané and Coman have supplied some creative thrives within the attacking third, and Kane's having fun with himself too.
45 + 2 min: Large likelihood for Dortmund as they lastly burst into life going ahead, the ball trickling to Malen within the field, however he's off steadiness when capturing – an try to seek out the highest left nook goes fallacious, the ball going over.
45 + 1 min: Upamecano offers the ball away close to the centre however Dortmund can't preserve a maintain of it themselves. It's been that manner all through this half.
44 min: Coman retains popping into the areas, drifting in from the proper earlier than threatening to drive with the ball via the center. He's been terrific.
43 min: A yellow card for Bayern's supervisor, Tuchel! Unsure what he's carried out, however the ref's given him a telling off there.
41 min: Hummels performs it lengthy and Mazraoui offers with it – almost an honest handball shout there, with the right-back on the sting of the field, however ref's not 'aving it.
39 min: Nothing comes of it.
38 min: Free kick for Bayern on the left, with Sané positioned to cross the ball into the field.
37 min: Practically a stunner from Goretzka, who takes a cross onto the chest within the field after which unleashes a scissor/bicycle kick (a mixture of the 2, I suppose) that flies extensive.
36 min: Bayern refuse to lose the ball, passing it across the again as Dortmund ward off.
34 min: Malen's cross is blocked and the ball flies comfortably into the arms of Neuer.
33 min: Upamecano has been pristine on the again to date, having initially been an harm doubt for this.
Supply Hyperlink : carrieradford.com